The cherry blossoms might only flower for ten days or so, but you can make the fun stretch by enjoying the countdown to a full bloom and savouring the flavours of the cherries (and cherry blossoms) which have taken over the city.

Many of Tokyo's hotels are showing their hanami (cherry-blossom viewing) spirit by offering stay plans and lunch menus with a cherry blossom theme. Currently, Hotel Century Southern Tower is offering a spring stay plan called 'Spring Southern Walk'. Guests at the hotel will be treated to a sweeping 100 metre high view of Shinjuku Gyoen Park bathed a cherry blossom pink. March 18 will also see the debut of 'Enjoy the cherry blossoms – Chef's Spring Lunch'. Make the most of these special offers while the season lasts.

Odakyu Century Southern Tower (Enjoy the cherry blossoms – Chef's Spring Lunch)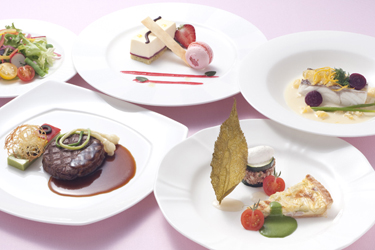 Known for their lunchtime queue, the Southern Tower's restaurant, Tribeks, is offering a special course allowing customers to sample the delights of the season. Dine while gazing down upon an unbeatable view of the cherry trees in Shinjuku Gyoen Park. The course will hit you like a burst of spring starting off with an appetiser of a seasonal whitefish riette accompanied by cherry blossom cream. For the main dish, there is a choice of meat or fish and salad bar, and to finish are cherry blossom macaroons – all for ¥2,940. Tribeks will also be holding a cherry coloured rosé wine fair so be sure to pair your wine with your food.

Enjoy the cherry blossoms – Chef's Spring Lunch
Date: Until Thur April 30
Location: Tribeks, Odakyu Century Southern Tower
     Odakyu Century Southern Tower (Full details & map)
Lunch time: Mon-Fri 11.30am-3pm; Sat-Sun, nat. holidays 11.30am-4pm

Meguro Gajoen (cherry blossom kaiseki lunch tray)
Tofutei is an elegant Japanese restaurant located inside Meguro Gajoen and surrounded by lush greenery and flowing water. Here customers can try a luxurious kaiseki lunch set presented in a Japanese style tray, complete with a cherry blossom theme. The set includes a strong showing of seasonal vegetables such as Brussels sprouts, udo (a Japanese plant related to ginseng) and bamboo shoots, as well as sashimi garnished with pink tinged Japanese radish – which is just a refreshing on the eyes as it is on the taste buds. Tofutei offers two choices of kaiseki: the special kaiseki for ¥6,400 or the regular kaiseki for ¥4,100 yen. After your meal is over, make a visit to see the Hyakudan Kaidan (100 Step Staircase). This Tokyo 'Registered Tangible Cultural Asset' has a cherry blossom motif and was fifteen years in the making under the direction of Tsurutaro Kataoka. In addition, Kataoka's work is now showing at the Hyakudan Kaidan; check the website for details.

Date: Until Sun Apr 4
Location: Japanese Restaurant Tofutei, Meguro Gajoen
     Meguro Gajoen (Full details & map)
Lunch time: daily 11am-3pm

Hotel Nikko Tokyo (Colours of Spring Cherry Blossom Fair)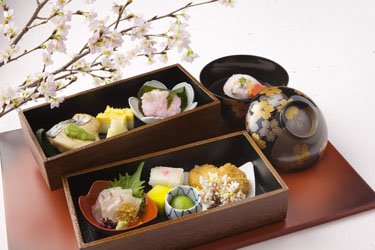 At the hotel's seven establishments you can give all of your senses a dose of spring as part of the Colours of Spring Cherry Blossom Fair. Japanese restaurant Sakura is offering a cherry blossom themed lunch kaiseki course 'Hiru kaiseki sakura tayori' which includes 5 items for ¥3,675. It's comprised of an appetiser and a two-tiered lunch box, featuring dishes such as bamboo shoot rice and a chilled adzuki sweet. During the cherry blossom season, the hotel also has special stay plans that incorporate a cherry blossom viewing with a boat cruise. The boat departs from Hinode Pier and heads towards Asakusa/ Tsumabashi allowing passengers to admire the Senbonzakura cherry trees along the banks of the Sumidagawa River, as well as those near the Chuo Ohashi Bridge. To top that off, the hotel also has bicycles available for hire – don't miss the chance view the cherry blossoms on wheels along the water.

Date: Until Sun Apr 4
Location: Sakura, Hotel Nikko Tokyo (Full details & map)
Lunch time: daily 11.30am-2.30pm

Related articles:
・Top ten cherry blossom sweets
 Taste the sweet beauty of Japan in Tokyo
・Sakura-mochi now blooming
 Delectable bite-sized treats to bring in the spring
・Luxe hotel breakfasts (part II)
 Gourmet Japanese breakfasts for less

Translated by E. Kavanagh