This is an odd story, so let's start with some familiar points of reference. You may remember her as the homeless woman with broken English in David Lynch's Inland Empire, droning on about her prostitute friend with the hole in her vagina and the monkey that shits everywhere while Laura Dern collapses and dies at her feet. At a stretch, you might also recall her brief appearance in Clint Eastwood's Letters from Iwo Jima, playing the wife of a much younger Kazunari Ninomiya.

Mention the name Nae Yuuki to most Japanese people, and you'll probably have to wait a couple of seconds before it registers. But during a busy few years in the early '90s, she was everywhere: the star of TV series like Woman Dream and Kita no Kuni Kara '92 Sudachi, the voice of All Night Nippon radio, the face of the JRA ads, the idol singer of 'Sunete Gomen' and other, even cheesier, hits. 'In Japan, you have to go the whole hog,' she says when we meet at a film distributor's office in Shibuya. 'There aren't labor unions [for actors], so when the going's good, you try to make as much money as possible…'

And then it all went sour. A series of disagreements between Yuuki's agency and the producers of the 1993 NTV drama Pokeberu ga Naranakute led to her becoming the target of a hate campaign waged in the pages of women's weeklies and on morning TV shows, and her popularity quickly dwindled. The qualities that had made her so appealing to a male audience – the cutesy voice, the coquettishness – were sources of immense irritation for the fairer sex. In Pokeberu… she played a woman having an affair with a salaryman old enough to be her father; in real life, she was just That Bitch Who's Out to Steal Your Boyfriend.

Spurned by the light entertainment industry, Yuuki moved first into theatre, then to LA. Now she's back, promoting her role in Iceland's first-ever horror film. Really.

Reykjavik Whale-Watching Massacre – a tongue-in-cheek tribute to The Texas Chain Saw Massacre, complete with guest appearance by Gunnar 'Leatherface' Hansen – was released in Japan last weekend, and the distributors have understandably put a lot of emphasis on Yuuki's involvement. She plays Endo, the minder to a wealthy Japanese couple whose afternoon of Cetacean spotting is marred when their ship's captain is killed and they're rescued by what turns out to be a trio of inbred cannibals. But while her fellow passengers are getting hammered, harpooned and stabbed to death, Endo turns out to be made of sterner stuff.

'I'm Asian, so I thought I'd be the first to get it, for sure,' Yuuki says, recalling the first time she read the script. 'That's what always happens in horror films, right? I was expecting the character would get raped or killed, but when I found out she's still standing at the end, I thought, "Okay, this is going to be interesting…"'

The film's director, Júlíus Kemp, admits that he didn't know much about Yuuki's earlier career when he cast her in the role. '[I just knew] the films we have seen in Iceland, which would be Inland Empire and Letters from Iwo-Jima,' he says. 'So, yeah, we looked at the films where she speaks English.'

'In Inland Empire, my English was really, really bad,' she interjects. 'It had subtitles.'

'Yeah,' he says. 'We had to find out if it was better.'

It is, but only just. Still, Yuuki has some competition on the language front, whether it's from a nikei Brazilian co-star whose Japanese is worse than mine is, British actor Terrence Anderson and his wobbly north American accent, or Aymen Hamdouchi – another Brit – attempting to go down in the history books as the least convincing onscreen Frenchman of all time. The film itself bounces along quite happily, although you're never quite sure if it's being intentionally funny or not.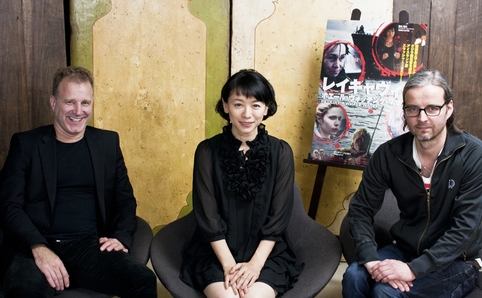 Nae Yuuki with 'Reykjavik Whale-Watching Massacre' producer Ingvar Thordarson (left) and director Júlíus Kemp (right)

As you might have guessed, the title came before the script. What's more surprising is that Reykjavik Whale-Watching Massacre was written by Sigurjón Sigurðsson, a celebrated author and poet who's won the Nordic Council's Literature Prize, and was Oscar nominated for his work on the lyrics for songs from Lars von Trier's Dancer in the Dark.

'[The idea] came in a hotel in Italy, I think,' says Kemp.

'And they were drinking,' adds producer Ingvar Thordarson.

'He told us that when some people in Germany talk to him, they think that somebody else did this,' says Kemp. 'They think there's somebody else with his name doing this – they can't believe it's the same person.'

Still, even literary associations aren't enough to dispel those lingering doubts: what the hell is Nae Yuuki doing in this film? She concedes that she's had a 'very odd life', but also talks like someone who doesn't have a whole lot of options.

'Hollywood people can go it alone – people like DiCaprio have their own production companies,' she says. 'But Japan doesn't have unions. The system's different, the mentality's different, the amounts of money involved and the way they're distributed are different. It's all very passive: you can't choose for yourself.' When one of the '90s dramas she starred in was broadcast on Japanese TV again recently, there was never any question of her being paid for it.

Regrets? She insists she doesn't have any, but when asked what advice she'd offer to her younger self, her eyes light up. 'Always make a contract,' she says, as the make-up crew laugh uproariously in the background. 'That might not be the done thing in Japan, but it's a good idea so do it anyway. Protecting your own rights is more important than getting the next job. It goes beyond looking out for yourself: it's about everybody's rights. We don't have that kind of mentality or system in Japan. We have to create it together ourselves.'

Reykjavik Whale Watching Massacre is currently screening at K's Cinema in Shinjuku and Humax Cinema in Ginza

Text & photos by James Hadfield