It's been 20 years since the release of 'Tetsuo', the iconic embodiment of director Shinya Tsukamoto's idiosyncratic worldview. His most recent film, 'Tetsuo: The Bullet Man', hit cinema screens in May and was released on DVD and Blu-ray disc on November 4. The day before the release of all three films in the 'Tetsuo' series – 'Tetsuo,' 'Tetsuo II: Body Hammer' and 'Tetsuo: The Bullet Man' – were screened in a world-first special event. We spoke to Tsukamoto about his feelings on the 'Tetsuo' films.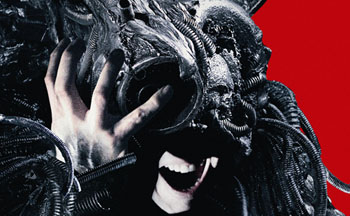 'Tetsuo: The Bullet Man' was the first addition to the 'Tetsuo' series in 17 years. How was it to put yourself back into the world of 'Tetsuo' after so long?
ST: Basically the 'Tetsuo spirit' was the same as it always has been, but the feelings that are running through it are different. In the last 17 years I've gotten married and had a child. Also, we are many years removed from being in the situation of a war, but I have a sense of uneasiness that people are drawing closer to being in one. I think all of those elements are mixed into the feeling that has manifested itself in the film.

The film's protagonist Anthony is always troubled, isn't he? As a father, and as a husband, what should he do? In the face of his enemy's appallingly violent acts, should he take revenge, or just endure it? Does the situation reflect any of your own, current feelings?
ST: Well actually that's something I've only realised now that you've said it. Anthony probably is a reflection of me. There is his anxiety about bringing up an 'iron' child – if you put it simply, it's that kind of subject matter – and there is also the fear of something like a war encroaching on your own life.

Why did you decide to make the central figure in the movie an American this time?
ST: I was asked if I'd make an American film, and in my own way I started to work on it. But making an American movie was also something I was personally interested in doing. Of course, I was also aiming for an American release, and it's something I'm looking towards realizing. At first I also had the idea of setting the film in America. I had grand visions, like a Tetsuo who flies through the skies of New York, but ultimately I thought that putting an American guest in the setting of the cyberpunk city of Tokyo would make a Tetsuo who is more true to my own vision.

Wouldn't you have also thought that having an American as the main character would mean that you could create a connection with the events of September 11? It's a film that questions the notion that the only option is to retaliate.
ST: That kind of idea is probably in the film somewhere. Showing, if America takes revenge, there will be this kind of result. Or like saying, 'People with power – hold yourselves back a little.'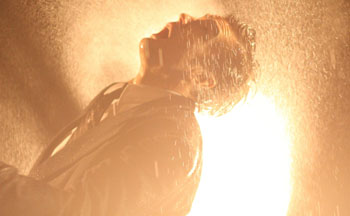 In the 80s when 'Tetsuo' was born, works like 'Akira' and splatter films seemed to point to some kind of destructive impulse within our culture. But now time has moved on, images of the destruction of cities and people have become commonplace in the mass media. ST: Exactly – because there's such danger of everything falling apart completely, I think it would be a little difficult to make a film like before, where things are simply destroyed. Being the person I am now, I couldn't make a film about destruction light heartedly, with a smile on my face, and if I did, I think I'd just be becoming a liar who is pretending to be younger than he is. But at the same time, I also don't like the idea of appearing too self-satisfied. At the end of the film, you don't really know what will happen next – he might destroy everything or nothing at all. But it does say, 'If you make the wrong choice, it will have disastrous consequences.'

The designs of the shapes that Anthony takes as he changes were amazing in this film. What were the important features in terms of his design?
ST: It was in the concept behind the film as well, but I went for designs which use weapons and firearms as a motif. I tried to bring out the feeling of the touch of iron, black like a pistol, and rough. Also, this time I didn't just work on the designs, but also on the creation of the models. I thought I'd get sick of it part of the way through, but it was actually really enjoyable to see the things I'd thought of take an actual shape.

As well as the visual effects, the sound effects are incredible, aren't they?
ST: While 'Tetsuo' and 'Tetsuo II: Body Hammer' were films of sound and image, they had monaural recordings. We got the theatres to turn up the sound really loud for them, but I always had a thought, 'I'd like to do things more this way.' In this film that wish has exploded. I wanted to bring out all the details of the process of a human turning into iron: the sound when flesh has mutated a little into iron, all of iron in its different stages, and also the sound of the voice as it turns more and more into iron. The first time I had sound set to the images, we did have to put a lot of effort into it, but the second time I was much, much more deliberate when I had sounds added. When we were recording, the sound was so enormous that I had to constantly stay outside the studio to maintain the accuracy of my hearing. When the sound engineers would come out after a piece was finished, they'd have a look as if they were carrying a massive mountain of iron on their heads. [Laughs] You could really see their intense exhaustion.

What factors were important to you with the release of the latest film on DVD?
ST: Because a Blu-ray edition was also going to be released, the first point was the vividness of the images and the sound. After that, two songs for the end credits were included, by Nine Inch Nails and Chu Ishikawa. Both were very important songs, so I couldn't just reduce it to one. Also, to include an ordinary making-of documentary would have been boring, so we made one that is synchronised to the sounds from the actual film. We added continuity, and its own visuals, so it's a very unusual and novel DVD special feature, made on the exact same scale as the actual film.

To finish off, can you give us a message for all the fans who are going to enjoy 'Tetsuo: The Bullet Man' on DVD and Blu-ray?
ST: If you bring 'Tetsuo' into your home, there's a possibility that he'll end up behaving himself, so even at home, you should turn the sound up as far as it'll go and let 'Tetsuo' run wild. I'd like you to fully savour the visual and audio experience.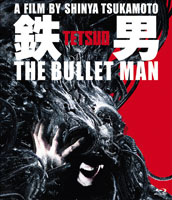 Tetsuo: The Bullet Man was released on Nov 4 and is now available on DVD, Blu-ray disc and for rental.
Website: tetsuo-project.jp/
Translated by Virginia Okno