Following its first publication, back in 1997, British author JK Rowling's first Harry Potter book, 'Harry Potter and the Philosopher's Stone', soon became a best seller – leading to a fantasy series that would go on to capture the hearts and minds of both children and adults alike all over the world. The Harry Potter series begins with the story of a young boy who, whilst suffering terrible neglect at the hands of his aunt and uncle, is one day offered a place at a prestigious school for wizards, providing him with a chance to escape his current miserable existence. Harry accepts the offer and goes on to overcome adversity after adversity to prove himself as a capable young wizard. Over the last thirteen years, the Harry Potter series has become such a social phenomenon that new words and objects that appear in the stories have been popularised; there's even been a word coined to describe those who live and breathe all things Harry Potter: 'Potterian'. In the film adaptation of its seventh instalment, 'Harry Potter and the Deathly Hallows', this much-loved and monumental fantasy adventure series draws to its on-screen finale.

Harry Potter is seventeen years of age and in his seventh year at Hogwarts School of Witchcraft and Wizardry. However, having returned to his true form, Lord Voldemort's terrifying powers not only extend into the magical world as a whole, but also to Hogwarts itself – making the school more perilous for Harry and his friends than ever before. Consequently, together with friends Ron and Hermione, Harry drops out of school and embarks on a journey to find the keys to destroying Voldemort once and for all: a number of cursed objects containing fragments of his soul, called 'Horcruxes'. During their travels, Harry and his friends learn of an old legend that tells of a collection of objects known as the 'Deathly Hallows' and are consequently soon assailed by new and terrible dangers. With no one to trust and nowhere left to hide, the three friends must depend on each other now more than ever. However, all is not what it seems and there are strange forces at work – acting to tear their friendship apart.

Fans of the films, the first of which was released back in 2001, have known for sometime that the end of the series would eventually come, however, hearing of its impending arrival, it's hard not to feel a pang of sadness. The film is to be shown in two parts – with the first part just released on November 19 and the second scheduled for release on July 15, 2011. One of the biggest differences from the previous six movies is that this one takes place almost entirely outside of Hogwarts. Rather than the wondrous world of witchcraft and wizardry, many of the scenes take place in the more mundane real world – placing Harry, Ron and Hermione in a number of different UK locations (including current day London and the English countryside) as they continue to run, defenceless from Voldemort's underlings.
Harry Potter and the Deathly Hallows: Part 1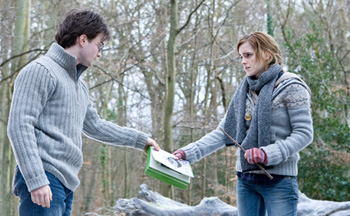 (C) 2010 Warner Bros. Ent. Harry Potter Publishing Rights (C) J.K.R. Harry Potter characters, names and related indicia are trademarks of and (C) Warner Bros. Ent. All Rights Reserved.
UK/USA, 2010
Japanese Title: Harry Potter to Shi no Hihou
Opened: Nov 19
Director: David Yates
Cast: Daniel Radcliffe, Rupert Grint, Emma Watson
Distributor: Warner Bros. Pictures
Website: harrypotter.warnerbros.co.jp/hp7a/

Leonie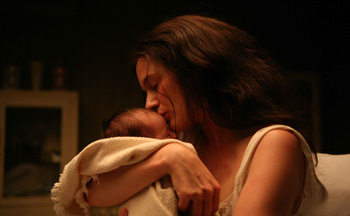 (c)レオニーパートナーズ合同会社
The third film by acclaimed director Hisako Matsui (an independent filmmaker whose previous works include 'Yukie' and 'Ori Ume', both of which depict the strength of family ties, and together, achieved an audience of over 2 million) Leonie tells the life story of Leonie Gilmour, mother to world-renowned Japanese sculptor and architect Isamu Noguchi. The story begins in early 20th century New York, where Leonie, a young lady who dreams of becoming a professional editor, falls in love with a Japanese poet by the name of Yone Noguchi. Before long, Leonie becomes pregnant with Noguchi's child; however, Noguchi returns to Japan, leaving her and the baby in America. Leonie raises her child as a single mother, but after her life in America becomes tainted by racial discrimination against her son Isamu, she decides to leave America and journey to Japan. Determined to share the tale of this extraordinary woman with the world, Matsui spent several years working through as many as fourteen drafts of the screenplay and shot on location across both Japan and the U.S. Seven years in the making, the result of Matsui's effort, is a highly engaging dramatized biography.

USA/Japan, 2010
Opened: Nov 20
Director: Hisako Matsui
Cast: Emily Mortimer, Shido Nakamura, Mieko Harada, Keiko Takeshita, Takashi Kashiwabara, Masatoshi Nakamura, Kazuko Yoshiyuki, Christina Hendricks, Mary Kay Place
Distributor: Kadokawa Pictures
Website: leoniethemovie.com/

Un conte de Nöel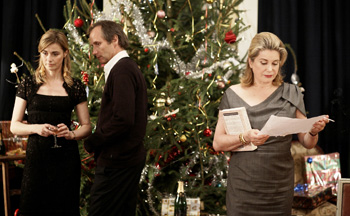 (c)Jean-Claude Lother/Why Not Productions
A Christmas tale with a number of big French names, including Catherine Deneuve, Mathieu Amalric, Melvil Poupaud, Chiara Mastroianni and Emmanuelle Devos. A mother's illness leads to an estranged family reuniting for Christmas. However, things become discordant when an unwelcome second son shows up, leading to added turmoil when everyone a begins voicing their own pent up concerns, frustrations and secrets. Directed by Arnaud Desplechin – a director with quite a following, whose previous works include 'My Sex Life... or How I Got Into an Argument' and 'Kings & Queen'.

France, 2008
Japanese Title: Christmas Story
Opened: Nov 20
Director: Arnaud Desplechin
Cast: Catherine Deneuve, Mathieu Amalric, Anne Consigny, Melville Poupaud, Chiara Mastroianni, Jean-Paul Roussillon, Laurent Capelluto, Emanuelle Devos
Distributor: Moviola
Website: www.a-christmas-story.jp/

Gegege no Nyobo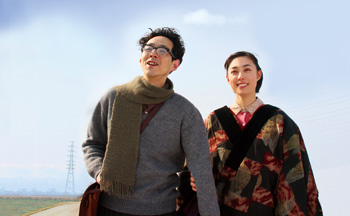 A heart-warming film adaptation based on the bestselling autobiography by Mura Nunoe. The story of the wife of famed Japanese manga artist Shigeru Mizuki (whose works include 'Hakaba Kitaro', 'Kappa no Sanpei', 'Akuma-kun' and 'Gegege no Kitaro'), Gegege no Nyobo recounts numerous hardships encountered as she supports her husband.

Soon after marrying the manga artist – a one-armed man who's more than ten years her age and whom she met by formal arrangement only five days previously – Nunoe leaves her hometown in Shimane to live in poverty with her new husband in Tokyo, where he draws manga by candlelight. Despite initial feelings of loneliness and confusion, Nunoe remains by her husband's side as he single-mindedly continues his art.

Japan, 2010
Opened: Nov 20
Director: Takuji Suzuki
Cast: Kazue Fukiishi, Kankurou Kudou
Distributor: Phantom Film
Website: www.gegege-eiga.com/
Translated by Brin Wilson