In the last 15 years or so, vintage TV shows such as 'Charlie's Angels' and 'Mission Impossible' have reappeared as hit Hollywood films, usually with an updated touch. Now, after a master plan of its own, 80s TV heavyweight 'The A-Team', which was not only a hit on America's TV screens but also had its fair share of passionate fans in Japan, has also made its way to the big screen. The A-Team is a renowned elite US Army squad of four men who have executed countless special missions. The legendary gang is headed up by Colonel John 'Hannibal' Smith, a master at working out incredible plans for any situation. He is joined by Lieutenant Templeton 'Faceman' Peck (acquisitions expert), Sergeant B.A. Baracus, (he of superhuman strength and a terrible fear of flying), and finally Captain H.M. Murdock, the unhinged pilot.

A year before, the Special Forces unit known as the A-Team became entangled in an incident in Iraq involving the robbery of plates used to print American currency, and are falsely imprisoned. Hannibal manages to escape from prison and successfully helps Face, B.A and Murdock to break out too. The A-Team members are reunited, and they set out to prove their innocence and try to expose the conspiracy and its mastermind. Hannibal hatches a fantastic scheme, and while the team evade the pursuit of the authorities, they draw closer to the truth behind the incident.

Over ten years of planning and development went into the A-Team film, with the screenplay being written and rewritten by a number of scriptwriters. To make the film a Hollywood success, the film appeals to audiences by moving the setting to diverse locales such as Mexico, Iraq, Germany and Los Angeles, and it has been made with the sense of realism so prevalent in today's monumental action films.

Joe Carnahan, critically acclaimed for his films 'Narc' and 'Smokin' Aces', was chosen as director for the film. He too grew up watching the A-Team and realised the great challenge of adapting to the screen a series with such a strong following. While paying homage to the original, he has also produced his own exciting 21st century version.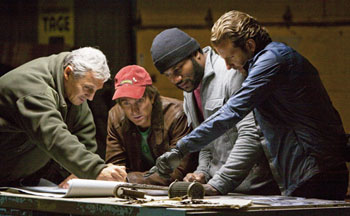 (c) 2010 Twentieth Century Fox
The A-Team
USA, 2010
Japanese title: Tokkou Yarou A-Team The Movie
Opened: Aug 20
Director: Joe Carnahan
Cast: Liam Neeson, Bradley Cooper, Quinton 'Rampage' Jackson, Sharlto Copley, Jessica Biel
Distributor: 20th Century Fox Pictures
Website: movies.foxjapan.com/ateam/

Colorful
Keiichi Hara, director of 'Crayon Shin-chan Appare! Sengoku Daikassen' and 'Kappa no Ku to Natsu Yasumi' (or 'Summer Days with Coo'), has turned Naoki Prize-winning writer Eto Mori's novel 'Colorful' into an animated feature. It tells the story of a cruel person who, after he has committed a grave act while alive, dies and then continues to exist as a spirit. A guardian angel puts him into the body of a boy who committed suicide in order for him to experience his life and once again discover the joy of living.

Japan, 2010
Opened: Aug 21
Director: Keiichi Hara
Cast: Kazato Tomizawa, Aoi Miyazaki, Akina Minami, Katsumi Takahashi
Distributor: Toho
Website: colorful-movie.jp/

Cats & Dogs: The Revenge of Kitty Galore
This is the eagerly awaited sequel to 'Cats and Dogs', the energetic espionage tale where undercover animals put human spies to shame. This time the cats and the dogs - born enemies – must work together to put a stop to the sinister designs of a former agent cat spy bent on world domination.

USA, 2010
Japanese title: Cats & Dogs: Chikyu Saigo no Nikukyu Daisensou
Opened: Aug 21
Director: Brad Peyton
Cast: Christina Applegate, Michael Clarke Duncan, Neil Patrick Harris, James Marsden, Bette Midler, Nick Nolte, Chris O'Donnell
Distributor: Warner Bros.
Website: wwws.warnerbros.co.jp/catsanddogs2/

Het nieuwe Rijksmuseum (The New Rijksmuseum)
This film documents the renovation and restoration of the Rijksmuseum Amsterdam, which houses masterpieces by Dutch greats such as Rembrandt and Vermeer. It's a fascinating look behind the scenes, which allows us to see museum elements, such as the restoration of paintings and administrative meetings that are usually closed to the public.

Netherlands, 2010
Japanese title: Yokoso, Amsterdam Kokuritsu Bijutsukan he
Opened: Aug 21
Director/Writer: Oeke Hoogendijk
Distributor: Euro Space
Website: ams-museum.com/

Translated by Virginia Okno