If you're a beach lover, you've probably already visited the seaside spots that aren't too far away from Tokyo. But besides Zushi, Kamakura and Enoshima – all of which can get crowded and dirty at the height of summer – there are a few other options. They'll take a little longer to get to, but the views will be better and the sand will be less, well, volcanic. Turn the journey into a weekend getaway with our advice on where to stay overnight, and pick up a bento along the way to keep hunger at bay. Most major train stations have ekiben (train bento box) stores that sell supercharged versions of the common lunchbox. If you're passing through Shinjuku Station, you'll find the ekiben near the south exit, while Tokyo Station's Ekibenya-Matsuri store is located just inside the ticket gates and stocks an array of about 170 different kinds of bento from all over Japan.
Hayama-Isshiki beach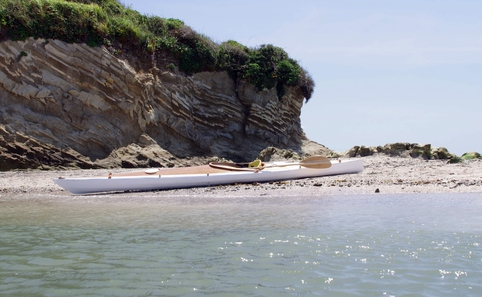 When most people head to Zushi Station for the beach, they usually have the station's namesake in mind as the destination, but take a short 20-minute bus ride (get off at the Sangaoka stop) to Hayama-Isshiki and you'll find a more beautiful escape. To get to the beach from Sangaoka bus stop, walk down a small path until the coastline appears. The discovery as you emerge on the beach from green surroundings makes the walk feel like a mini-adventure. The beach is surrounded by rock formations and greenery, and its beauty and proximity to Tokyo make it a popular location for Tokyo-based film students. If you take the Shonan-Shinjuku line to Zushi from Shinjuku Station, you'll arrive at Zushi Station in just over an hour.

Best bento: Get in the mood for the sea with the Anago Oshizushi (saltwater eel) bento (¥720) from Shinjuku Station's ekiben. Anago is similar in taste and texture (though less rich) to the more popular unagi (freshwater eel).

Where to stay: Visit Shiki-Club Prego Hayama, located a few minutes from the beach and the mountains. If you're lucky, you might catch sight of Mt Fuji from the lounge space. Rooms are available for ¥5,000, including a Western-style breakfast, or ¥8,000 including an Italian-style dinner. 2233 Isshiki Hayama-machi, Miura, Kanagawa. 03 5695 3366. www.shikiresorts.com/english/.

Onjuku beach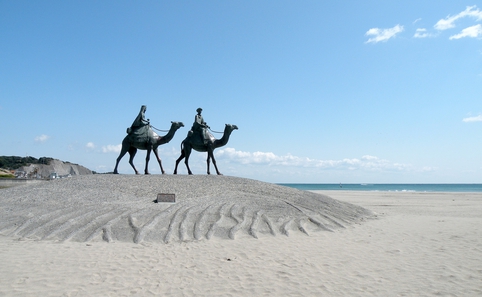 You can reach Onjuku beach in roughly 90 minutes if you take the express Keiyo line train Wakashio from Tokyo Station. Otherwise, for nearly half the price, you can take local trains but this increases travel time to around two-and-a-half hours – and that's only if you don't miss your connections. You'll find the beach after a mellow walk through suburbia. Along the way, there are images of camels next to lamp posts – the reason for which (mysterious at first) becomes apparent as you near the beach and catch sight of the Tsuki No Sabaku statue of camel riders. The statue portrays two Arabian knights on camelback as a tribute to an old song based on the beach.

Best bento: The Kani Meshi (crab rice) box (¥1,140), from Tokyo Station's ekiben, is ideal for a seaside trip – it's served in a crab-shaped box and features boiled crab meat with miso flavouring.

Where to stay: The Sayan Terrace Hotel & Resort is just next to the beach and has rooms from ¥8,000 including breakfast. Choose between Western or Japanese-style decor and try to nab a room with a sea view. The morning fare is sandwich-style and you can choose from a selection including seafood and ham as well as fruit and vegetables. 2163 Hama, Onjuku-machi, Isumi, Chiba. 0470 68 7711. www.sayanterrace.jp.

Oarai beach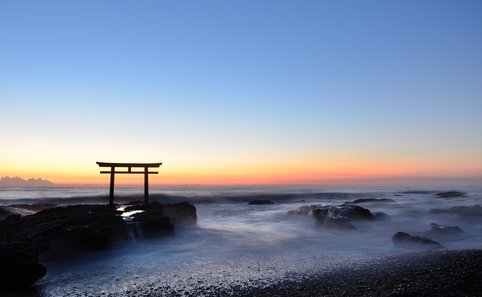 The quickest way to get to Oarai beach in Ibaraki is to take a Super Hitachi train from Ueno Station – it takes about one hour and 40 minutes. Otherwise, you can save money by taking the Joban line from Ueno Station to Mita and then changing to the Kashima Rinkai Tetsudo line – this will take around two-and-a-half to three hours depending on transfers. There are actually two beaches to choose from: Oarai is pebbled, while Sun beach has a long stretch of sand. The surrounding town is a treat for anime fans as 'Girls und Panzer' is set here; you can even go on a city hunt to find cutouts of characters from the show. Stay for sunset on Oarai and watch the sky glow orange beyond the rock-perched Kamiiso-no-Torii (shrine gate).

Best bento: Gyudon (beef on rice) is a popular comfort fast-food in Japan. We recommend a Gyuniku Domannaka bento (¥1,150). It comes with Yamagata rice, topped with juicy beef and plenty of vegetables on the side. It's a good choice for meat eaters and less of a risk for those who tend to get halfway through a meal and decide they should've ordered something else.

Where to stay: Check out Oarai Hotel, conveniently located near Aqua World Oarai aquarium and offering you superb sunrise scenes. There are also fishing spots and a golf course nearby. Rooms from ¥9,720 with a buffet breakfast. Look forward to a banquet of seafood for dinner. 6881 Isohamacho, Oarai-machi, Higashi-Ibaraki, Ibaraki. 029 267 2151. Make a booking: travel.rakuten.com/hotelinfo/50/5950.

Tatadohama beach
The closest station to Tatadohama beach in Izu is Izukyu-Shimoda Station. Getting there takes two-and-a-half hours by shinkansen and about an hour longer if you take the Tokaido line through to Ito and then change to the local Izukyu line. Don't be put off by the longer train ride – it's a treat for the senses with views of the glistening sea and dense forestry. From the station you can get to Tatadohama beach by taking the number 1 or 2 bus towards Tatado. Once off the bus it's a few minutes' walk down a well-signposted hill. Tatadohama beach is a fine mixture of nature and seashore, and its waves make it a popular surfing spot. There's a pleasant beachside café, hotdog stand, and hot spring and massage options nearby.

Best bento: It's a long ride so we advise tucking into a Nagoshi bento (¥1,080). Nagoshi can be translated as 'summer passing', which basically means managing to survive the hot summer months without too much suffering or, in traditional terms, without losing farm crops to bugs. The Nagoshi bento's varied selection of food provides plenty of energy to power you through – with a mixture of seafood, beef, summer vegetables and a small serving of jelly.

Where to stay: Just a hop-skip from the beach is Shimoda Yamatokan hotel where you'll enjoy looking out at the white sand, waves and surfers from a Japanese-style room with tatami mats and futon beds. The rooms start at ¥8,640 including a Japanese-style breakfast, though the standard is ¥10,800 with breakfast and dinner. 2048 Kisami, Shimoda, Shizuoka. 0558 22 1000. www.shimoda-yamatokan.co.jp/english/index.html.