Following the breakout win by Japan against Denmark in this year's South African World Cup, Samurai Blue now moves on to its next challenge against the FIFA world-ranked number 31 team, Paraguay. In keeping with the World Cup spirit Liquid Loft, on the second floor of Ebisu's Liquidroom will be hosting a public viewing of the match for fans of all stripes.

This year marks the team's fourth consecutive tournament and eighth World Cup, with Group F results such as a draw against veteran team Italy and a sweeping victory against upstart Slovakia. With their strength lying in their defence, it's a defence that Japan hopes to cut through.

Building on the exciting public viewings from team Japan's three previous outings to the pitch, the public viewings bring football and its fans together with music and the crowd-rousing services of MC, vuvuzela 'master' and 'Mr. "V" for Victory' Atsushi Shikano. The Japan-Paraguay match will be no different, with a crowd-pleasing fusion of music and football back to the stage. As always, there will be special guests, so check back for more details, get your vuvuzela ready and don't miss the match at Liquid Loft.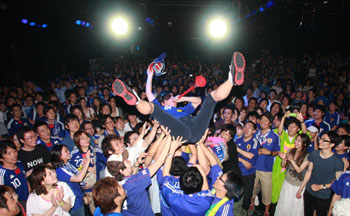 Japan vs Paraguay
Date: Tue June 29
Location: Liquid Loft, Liquidroom 2F (Full details & map)
Time: 10.30pm open
Price: ¥1,000 door charge
Guest: Atsushi Shikano (Musica), more TBA

Photo by Takeshi Maruyama