Miwa Gardner, weather forecaster
Are you out for some fresh air?
MG: I'm just out enjoying this pleasant weather. Actually, I'm always on my bicycle. I was born and raised in Texas so I'm used to going everywhere by car. Riding around town by bicycle is fantastic! What do you think? This orange colour is pretty cute right? I fell in love with it the moment I saw it. Do you have a bicycle?

I do indeed. [Laughs] Wow, Miwa, you seem like someone who has a really bubbly personality.
MG: Really? [Giggles] I love the cherry blossom season. Plus, exactly one week ago was the second anniversary of the day that I met my husband.

Congratulations. Did you get married recently?
MG: We tied the knot a little over 6 months ago. We met two years ago, got engaged about six months after we met and then married nine months after getting engaged. We held the ceremony in September, in my hometown of Austin, Texas. My husband's British.

Did you meet in Tokyo?
MG: We did. A friend introduced the both of us whilst we were viewing cherry blossoms in Yoyogi Park: wherever you are, there's always a chance to meet that special someone. [Laughs] The park was packed with people so we escaped the crowds and, while talking, walked right to the edge of the park. Yoyogi Park is really beautiful; it's where we fell in love.

Wow, meeting someone while viewing cherry blossoms – that's really lovely. What's your husband doing today?
MG: I invited him to come outside and enjoy the weather with me, but he's busy studying at home.

How long have you lived in Tokyo?
MG: About 10 years. I like it here. It's really interesting because the city has everything. Plus, the trains are always on time, the food is exquisite, there's a high standard of public safety, and everything is convenient; it's easy to live here. Just the other day I lost my phone and didn't even notice; however, someone picked it up, called one of my friends and then returned it to me. I've lost things, like my purse, countless times here, but every time I lose something, it comes back to me. The people here are really nice, or perhaps 'decent' is a better word. I don't know if everyone here is happy per se, but they never seem to raise their voices or show a violent temperament: I like that.

What do you do for a living?
MG: I'm a weather forecaster for NHK's English broadcasting service. I give the weather forecast on weekday evenings. I've been doing it for about five years. It's really fun. You can watch my channel live on the iPhone via a free app called NHK World TV Live... check it out.

Apart from Yoyogi Park, where do you like to hang out?
MG: I often sit and read a book in ASO, in Daikanyama. I like the atmosphere there; it feels like you're in France. You should check it out – although I'm not keen on busy places so I only go on weekdays.

More from Miwa: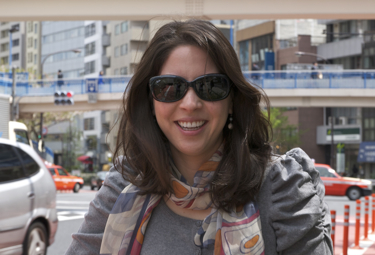 'I recently bought a Pentax digital SLR camera. Tokyo has lots of really interesting buildings and events: there're loads of places here that would make a great picture.'

'I'm planning on getting my MBA.'

'Of all the large cities in the world, I think Tokyo is the most wonderful. Although it's a huge city, it's great that it's such a really healthy place to live.'

Translated by Brin Wilson