In the weeks running up to this interview I notice the Michael Fassbender effect. It's not that everyone has heard of him (not yet anyway, but it can't be long: it's been one hell of a year for the 34-year-old). Yet the mere mention of his name sends the devoted few – among both sexes – weak at the knees. 'He's hot!' shrieks a usually hyper-articulate female colleague. Men melt into puddles of hetero-smitten slush. He's been called the next Daniel Day-Lewis, the next Brando, next in line for Bond. Of those, he'll take Brando: 'He's my hero. It's ridiculous. But I'll take it.'

The thing to say about him is that when he's on screen you can't take your eyes off him. Fassbender's charm is his asset. But with him it's something prowling and lean – a feral glint to his Bobby Sands in Hunger, or the upper-crust English officer, castrated to comic effect, he played in Inglourious Basterds. He was a deliciously Byronic Rochester in Jane Eyre, unnervingly sympathetic as the stepdad seducer in Fish Tank. And yes, he did make X-Men: First Class eminently watchable.

A few days before we meet, I see Fassbender's charm in action – full-beam – when he does a Q&A following a preview of A Dangerous Method, one of a handful of movies he's appeared in recently (he shot six back-to-back during a marathon 20-month slog, including Haywire with Steven Soderbergh and Ridley Scott's Prometheus). Directed by David Cronenberg, A Dangerous Method chronicles the almighty ego clash between Freud and his protégé Carl Jung – 'my son and heir' – with a lick of S&M courtesy of Keira Knightley.

After the film, Fassbender, who stars as Jung, strides up on stage and confesses endearingly to a 'man-crush' on his co-star Viggo Mortensen. No, he answers, he doesn't think acting is a form of therapy: 'That would be self-indulgent, boring to watch.' Asked which psychoanalyst floats his boat – sex-on-the-brain Freud or mystical Jung – he picks Jung, pointing to a column in the cinema: 'When I look at that, I'm more likely to feel connected with it than to see it as a penis.' Actors often come across as insecure, manicured. But Fassbender is giving every impression of being a fully paid-up member of the human race. The audience is practically swooning.

A week later we meet at a hotel in Soho, London to talk about his role as a sex addict in Shame. For my money it's the most interesting of his new releases: his second collaboration with artist and director Steve McQueen after Hunger in 2008. There's an awkward who-sits-where moment. Entirely my fault. Frankly it's a bit embarrassing coming face-to-face with a man you've just watched, buck-naked, having sex in every conceivable combination. After a three-month publicity blitz for the film Fassbender is clearly used to the squirming.

Even from the dream team of McQueen and Fassbender, a film about a sex addict isn't exactly my cup of tea at first glance: it's such a sleazy-sounding, tacky-looking subject. Luckily Shame is anything but. The script is co-written by McQueen and Abi (The Iron Lady) Morgan: a powerful, gut-thump of a character study – of loneliness as much as sex addiction perhaps. Fassbender plays Brandon, an alpha New Yorker. To the outside world he's living the dream: slick (in truth pretty sterile) apartment, fantastic job, nice line in cashmere V-necks. But Brandon has a dirty secret. Sex. He wants it, needs it, non-stop: he hires prostitutes; can't get through the day without masturbating in the loos at work; his office computer is riddled with hardcore porn; he staggers into a gay club for a blow-job. There's not an ounce of pleasure in any of it. Then his sister (Carey Mulligan, peroxide blonde, ditching her trademark netball captain charm) shows up. She's the flipside to Brandon: needy, messy, neuroses hanging out for everyone to see.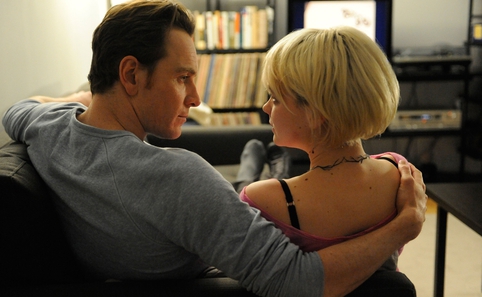 Michael Fassbender and Carey Mulligan in Shame. (C) 2011 New Amsterdam Film Limited, Channel Four Television Corporation and The British Film Institute



This isn't in any way scientific, but Shame does seem to be a particularly difficult film for women to watch. That tickles Fassbender. He fixes me with a sarky grin and his laser blue eyes. 'For women to watch? How do you think it was for me?' Fair enough. But, I venture, we're watching the film from between our fingers, seeing Brandon as an exaggeration of male sexuality. He does exactly what evolutionary psychologists tell us men are hard-wired to do: have sex with as many women as possible. Fassbender is not buying it. 'I suppose that's what a lot of girls are thinking. But it's definitely not the scenario here.' He reaches for a comparison with an alcoholic: 'A lot of people have a social drink. But they don't have to wake up in the morning dry heaving, putting alcohol into their system just to function. Most men think about sex a lot. We know that. But for someone like Brandon it is a compulsion. That's where the shame comes in: you're no longer in control of your choices.' He chuckles: 'Don't worry, your boyfriend is not Brandon. I don't know, maybe he is?'

I'm rather taken with a statement McQueen made at the premiere of Shame in Venice: 'It's difficult to be a human being right now. I wanted to show us as being fragile. This is not beautiful or pretty to look at. I just wanted to take the ostrich head out of the sand and let us have a look at ourselves.' It sort of sums up the man and his movies: bolshy, provocative and exceedingly sincere.

After Hunger a lot of people assumed Fassbender went in for method acting. He doesn't particularly, although he went down to 600 calories a day to lose three stone playing Bobby Sands. For Shame he did talk to sex addicts, but his thing is to read and re-read the script. How many times? Around 350. Blimey. 'I try to do it ten times a day and maybe get to seven. You go a little bit crazy.'

'Brave' is an adjective that gets bandied about willy-nilly by critics to describe performances, but for once it's justified here. There was a seven-minute standing ovation when Shame premiered at the Venice Film Festival. Fassbender went on to win the award for Best Actor and has been notching awards faster than Brandon does conquests ever since (although he was overlooked at this year's Oscars, in a decision that McQueen blamed on Americans being 'too scared of sex'). Still, it must have looked like a risky character for an actor on the verge of becoming an A-lister. Isn't that what agents are for: to prevent their clients from making films that potentially sabotage their thinking-woman's-sex-symbol status? No, says Fassbender. He wouldn't work with people like that. Life's too short. 'That's what's dangerous about this profession: people worrying about their image and their brand. That's not my job. I'm not out there to push brand Fassbender.'

The heritage of the Fassbender brand is as follows: born in Germany to a German dad and Northern Irish mum, he moved to Killarney when he was two. His parents, now retired, ran a restaurant, which is where the work ethic comes from. He looks appalled at the suggestion he might do a film like X-Men: First Class at half-steam: 'No, once I'm committed to something, that's it.' He moved to London, where he still lives, in Hackney, at the age of 17; it was around this time that he landed his first nude role: starring in an ad for a Swedish airline. 'They told me I was going to be naked. I thought maybe I'd have some kind of… I don't know… apparatus…' He's cracking up. 'Some pants or something.' He says he finds the hoo-ha surrounding the sex scenes in Shame bizarre: 'Is it more normal to see me shoot someone in the head than have sex? I'm presuming you've had sex? Most people out there do. Maybe this is something that we can be adult enough or normal enough to discuss.'

Giving his acceptance speech at Venice, Fassbender called McQueen 'my hero'. Today he tells me that the director changed his life. McQueen is on record saying he thought Fassbender was cocky when they met before Hunger. 'Yeah, he didn't like me at all,' says Fassbender, with a big grin. 'I was defensive. I was an actor trying to get work, dealing with a lot of rejection. And there was a stern, inquisitive side of me that was like, "What do you want to do with this story?" I've got family from the North.' The pair have a strong friendship now. McQueen says he wouldn't have made Shame without him: 'He's a genius. I want to work with the best actor there is, and that's him.'
'Shame' opens on March 10. Read our four-star review