There's something going down in Gakugei-Daigaku. Perhaps best known as the home of boutique hotel Claska, this strip of Tokyo between Meguro-dori and Komazawa-dori is a meeting point for all kinds of contemporary art and culture. Walking around its quiet streets you're likely to stumble upon a miscellany of interesting cafes and shops, leaving the sense of a place where everyday life and having fun are basically the same thing. That's certainly true of Son of the Cheese, a bizarrely named communal hangout that embodies much of what makes this area so darn cool.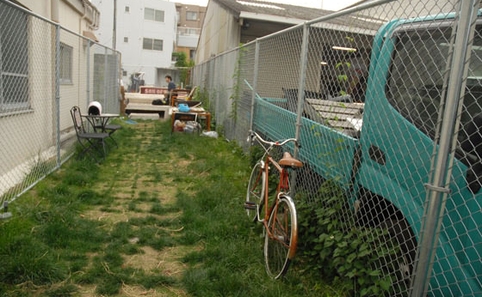 Created by skaters, for skaters

At first glance, this hideaway located on Meguro-dori is a mystery. Is it a car park? Is it a warehouse for an antiques shop? Once you open the gate and step into Son of the Cheese, you'll find yourself in the midst of Tokyo's coolest skater hangout. Made by veteran boarder Kaito to share with his creative friends, it comes with a fully equipped café, selling everything from sandwiches to beer, and a skate pool with an unusually shaped design that makes it difficult for beginners while offering enough of a challenge for hardcore skaters to enjoy themselves. But Kaito himself says that having a place to relax and hang out with friends is more important than the skating itself. When the weather's hot, they fill the pool with water and take a dip instead.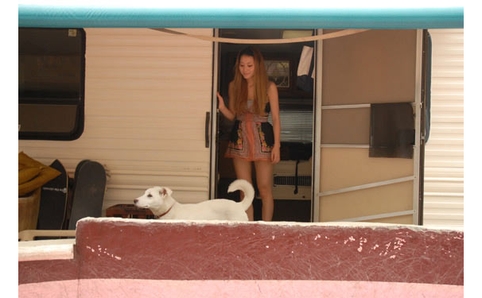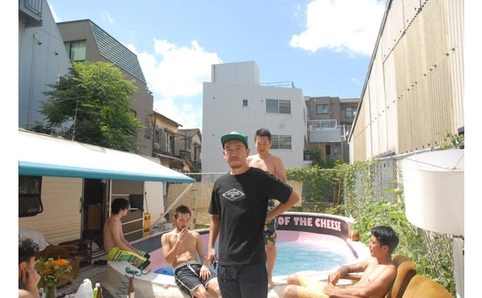 Son of the Cheese. 1-4-14 Chuo-cho, Meguro-ku, Tokyo (03-6452-4445). Access: Gakugei-Daigaku Station (Tokyo Toyoko line)

Friends and neighbours of Son of the Cheese
Son of the Cheese was created by a variety of people, from professional skatepark builders to old friends of Kaito's, to guys he had only just met. When Time Out Tokyo dropped by, we took the opportunity to talk to some of them.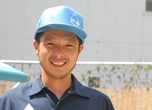 Koji Oba, skateboard/ramp design & construction
Fushiming, Hole and Holland label boss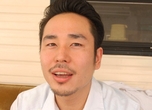 Yusuke Sudo, owner, bar & creative space Mondemingo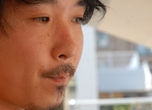 Muzono, hip hop producer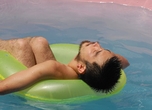 Katsuya Kubo, Guru's Cut & Stand hair salon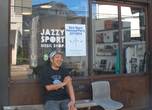 Gaku, Jazzy Sport Music Shop record shop
Koji Oba, skateboard/ramp design & construction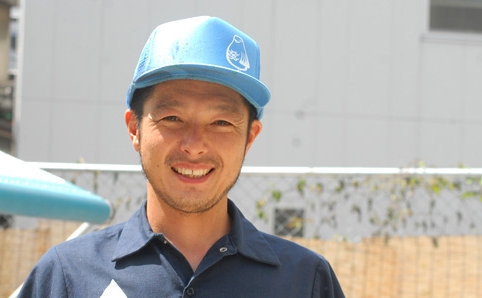 Can you tell us about what your company Obagumi does, and how it started?
About 4 years ago I started a company called Wooden Toy, which makes skateboards. I learnt the basics of construction as a miya-daiku [a carpenter who works on traditional buildings, including temples and shrines], which mostly involved construction work like renovations. Things went well, so I integrated the skateboard section as an independent company called Obagumi. We have our own factory about 15 minutes from here.

Skateparks that use ramps, and ones that are a pool like this are different, aren't they?
We mostly focus on wooden ramps, but of course we can make both types. We make everything from scratch in our workshop, including coping, a particular type of curb made from concrete.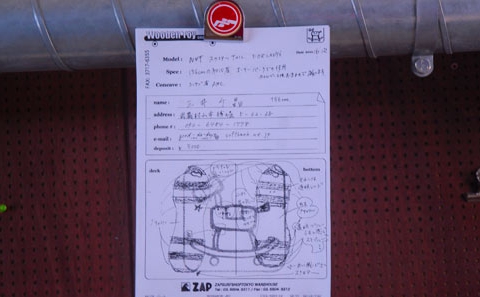 Are there no other people making similar skateboarding pools?
There are skateparks with pools in them, but I've also started to see more people who are making their own pools by themselves in the last few years. Some people build them just as a place to enjoy with friends, while others turn it into a proper business. All of the ones I've seen have their own individual shape and interesting design features, and seem really cool. I think we'll start to see more and more of them all over Japan. Once you've tried grinding on concrete coping, it's pretty addictive.

Are they difficult to make?

Our clients always have really interesting ideas, so it's all about the challenge of how to make them real. Even with Son of the Cheese, at first I thought, how could you possibly build that in a place like this? There was a question of how far we could take it, but I only did the planning of things like what materials were needed. Kaito was the one with all the ideas.

How long did it take to build Son of the Cheese?
The digging took the longest. Apparently they tried to use an excavator at first, just the once, but it wasn't nearly enough for the job, so everyone got together to dig themselves. (Laughs) But I think it was actually finished in about two or three weeks.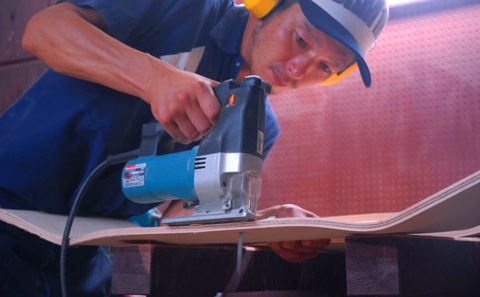 Have you always lived in Meguro?
Yeah, I have. I was born here too. Of course there are the people I grew up with, but this area – Shibuya, Jiyugaoka, Nakameguro – seems to attract so many amazing people, creative in all kinds of ways. That's why I like it. There isn't just the one set group of people who have always been here: new people are instantly included, and the mix is great. Setagaya Park is like that too.

Who do you think is the most interesting group of people at the moment?
Well, what I find most boring is the shape the skateboarding industry has taken up until now. That whole area doesn't interest me at all. Everyone is really sick of how most shops have been selling the same kinds of products for decades without shaking things up. There are new skateparks being built, though, and there's much more room to develop so now it's possible to tailor things to match the way particular people want to skate. You should come by our factory: there's so much to see.

Fushiming, Hole and Holland record label boss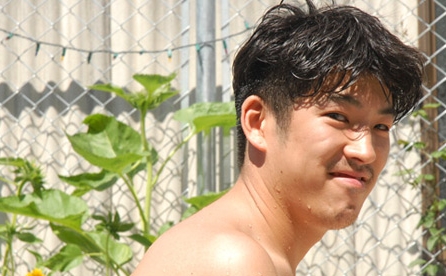 What kind of label is Hole and Holland?
It's a Tokyo-based new age [Well, more like electronica – Ed.] label with six of us running it, including DJs and hip hop-style producers. It started as a group of six people from Setagaya and Nerima just getting together, really. Most of us are skaters, and we've been going clubbing and starting new bands together since we were teenagers. We have lots of interests in common and do a lot together, and that led to us working together creatively too. We started a proper label about five years ago, and we've just released a CD featuring artists influenced by skateboarding called Ride Music.

How did you come to know about Son of the Cheese?
I've been hanging out with Kaito around Kichijoji for about 10 years. I met him through Muzono [see below], who has known Kaito since they were kids, and we skated together, and went drinking and stuff.

What were you both like back then?
Ten years ago we were both still just students. I was in an electronic unit with Muzono called Chelook, who've since released an album on Hole and Holland, but with Kaito it was all about skateboarding and drinking. If I was in Kichijoji, I'd always give him a call to see where he was. We also went skating in places like Mitaka, Kanagawa and Chiba too.

Where are you from?
I'm from Oizumi-Gakuen, in Nerima. Recently I've been getting together with people like Moochy and Altz and organizing events at Seco in Shibuya, and DJing at places like Bonobo in Jingumae and Koara in Shibuya.

Yusuke Sudo, owner, bar & creative space Mondemingo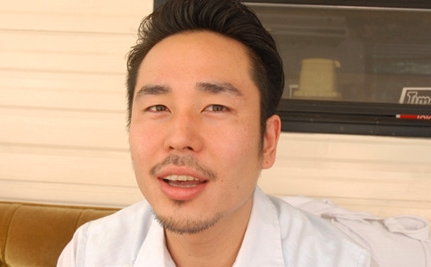 How did you come to meet Kaito?
Kaito came into the bar one day when I was at work, and he told me about how he was going to start a business called Son of the Cheese. I was interested from the get-go, so I used to drop by a lot. I didn't actually help with any of the construction though. (Laughs) When I saw what he had built I was amazed – he actually did it! His place closes in the evenings, and my bar opens at 7pm, so at the weekend people will often flow in after it shuts. There are a lot of interesting people living in this neighbourhood, including customers of mine too. A lot of creative people. But then, it's also an area where it's okay to walk around wearing pyjamas and sandals without really worrying about it. (Laughs) Even that would be completely fine.

What is your bar like?
I just sort of took things as they came and opened it about a year ago, without really planning much. I happened across the location one day when I was out for a walk. I found it by chance, but I really liked it.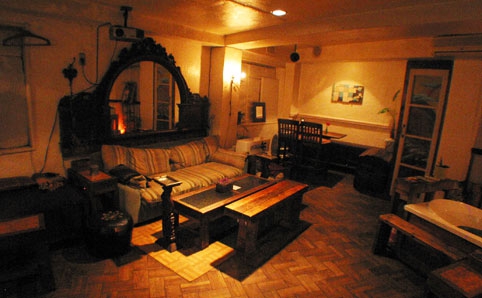 What was the building originally used for?
The first floor was a regular bar, and the fourth floor was a flat. At first I lived on the fourth floor, but more and more friends started to hang out there, and I thought if I lived there, I wouldn't have any privacy, so I turned it into a shop too.

And what are you actually selling?
What would it be...? The mojitos we serve in the bar on the first floor are delicious. (Laughs) We do have a lot of skater types coming in, but we also have a lot of more conventional customers too. The fourth floor has a DJ booth, and a projector that can produce pretty large images, so we also have visual artists coming in. We have some customers who are much more traditionally artistic, who project a sense of: 'I've just graduated from art school, and I am creating work'; not at all like the people you'll find at Son of the Cheese. (Laughs)

Why did you decide to base yourself in Meguro?
I was born in Utsunomiya, but I originally lived in Nakameguro, and then somehow gradually moved further and further from Gakugei-Daigaku. My bar is technically in Meguro, but it's right on the border with Shinagawa. It's a really great place to live.

Mondemingo. 4-3-14 Meguro-Honcho, Meguro-ku, Tokyo (03-6412-8984; mondemingo.com). Open Tue-Sun from 7pm, closed Mon. Access: Gakugei-Daigaku Station (Tokyu Toyoko line) or Musashi-Koyama Station (Meguro line)

Muzono, hip hop producer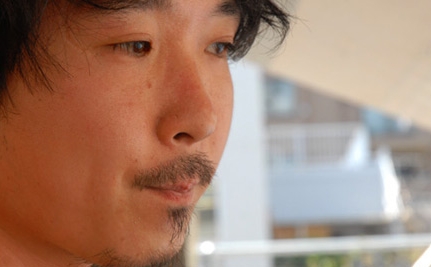 What kind of music do you make?
Recently I've been working on creating a track and having a rapper called Meiso rap over it in Japanese, and an American rapper, E13, rap in English. So it's rap music that's always switching between languages. All three of us are interested in a wide variety of music, and I think all of those elements come through in the music we make. We've just released a mini album, The Enigma, on Mary Joy under the name Lionz of Zion.

How did you find out about Son of the Cheese?
I heard about it when Kaito told me about this campervan he'd just bought, which has become the café now. I thought he seemed to be having a lot of fun, and it seemed really interesting. It's pretty rare to find a place as different as this – it's the kind of place that, if you hear about it, you can't help being drawn to.

Is everyone here a skater?
I haven't skated properly for around 10 years, but sometimes I'll borrow a friend's board and pedal myself around on it. Nowadays, I'm much more likely to ride a bicycle. (Laughs)

Katsuya Kubo, Guru's Cut & Stand hair salon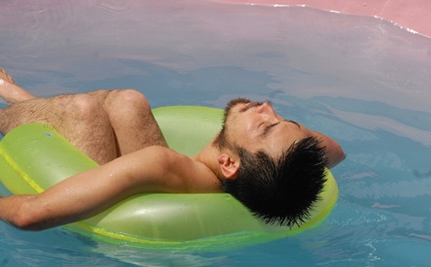 When did you open your salon?
About two years ago. I used to work in Daikanyama, and when I decided to open my own shop I thought the atmosphere around here [Yutenji] was nice and relaxed. I also know quite a lot of people who live around here.

Now that you've started a business here, how do you find the area?
It's fantastic. I've got a bench outside the shop so people can sit down, and friends who live around here come by to hang out. There's a really at-home feeling to it, which I love.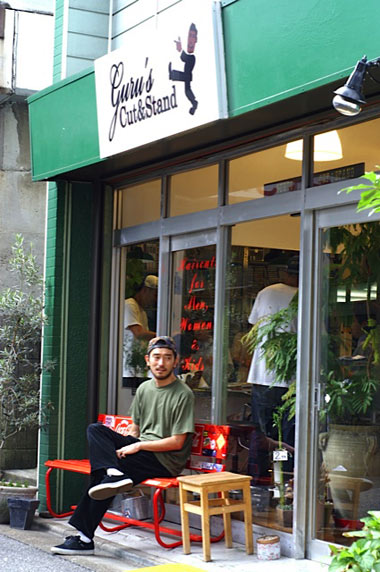 Does the interior of the shop feel like a salon?
Not really. Actually, like Son of the Cheese, we did the exterior and the painting and stuff ourselves. It really feels handmade – even the objects inside are things that friends of mine have made. It's run in a pretty chilled out way.

I heard that everyone working here is a skater?
Yeah, that's right. There are six guys and one girl, all skaters. Somehow those kinds of people just ended up here.

How did you meet Kaito?
As you'd expect, it was when I was skating with everyone. In places like Setagaya Park and Komazawa.

And when you saw Son of the Cheese for the first time, what did you think?
Well, with days like today when you can even go for a swim, it's awesome! (Laughs)

How would you like Son of the Cheese to continue in the future?
Now there are a lot of great people coming, so I'd like even more people to come and make it an even more interesting place to hang out.

Guru's Cut & Stand. 1-22-10 Yutenji, Meguro-ku, Tokyo (03-6412-8953; www.gurus-cut.com). Open Thu-Tue from 11am, closed Wed. Access: Yutenji Station (Tokyu Toyoko line)

Gaku, Jazzy Sport Music Shop record shop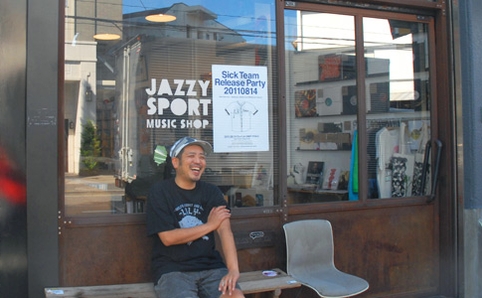 Although it's not directly related to Son of the Cheese, Jazzy Sport Music Shop has a lot in common with Kaito's crew. As we were already in the area, Time Out Tokyo thought we'd take the chance to introduce this great little record store – and maybe, like a meddling neighbour, we can bring some new groups of friends together in the process. 

How long has it been since you moved from Shibuya to Gohongi?
We moved in May last year, so a little over a year.

How have you found it here?
My pre-production studio was always in Gakugei-Daigaku, so I've always known the area quite well. There are artists and musicians living close by, so it feels very familiar.

Your shop in Shibuya was great, but things feel much less restricted here.
Well, the fact that we now have a street storefront has made a massive difference. I think those of us working in the shop have noticed the difference the most. It's been a refreshing change too. Being on street level, it's easy for people to just drop in, and locals who happen to be passing by come in too. I'm really happy here.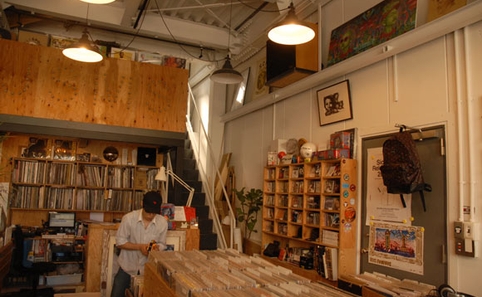 What about the customers from when you were in Shibuya?
To be honest, the number did go down. But some of the regulars who have been with us for a long time have come out here too. Actually, a lot of them live around this area, so we're closer now. (Laughs) Of course, there are customers we have moved further away from who have dropped in too, and said that it has a good atmosphere. Eating takoyaki from Hanatako on the bench in front of the shop has become standard procedure here.

Jazzy Spot Music Shop. 3-17-7 Gohongi, Meguro-ku, Tokyo (03-6452-3916; www.jazzysport.com/blog). Access: Gakugei-Daigaku Station (Tokyu Toyoko line)
Translated by Virginia Okno