Every year since the release of the first 'Saw' film in 2004, a new instalment of the hit horror series is released during the Halloween season, and its enthralled cinema fans flock in to see it. The incredibly popular 'Saw' franchise created a new genre of splatter films – thrillers where the protagonists are put in extreme, and extremely gory, situations (dubbed 'solid situation thrillers' here in Japan). This seventh film, said to be the final chapter, is also the first to be shot in 3D. You don't need to be a horror fan to enjoy the brilliant storytelling in the series, where each time the victims of Jigsaw's games of life and death are pushed to their limits. Terrible crimes are committed and hidden desires come to the surface.

In 'Saw 3D' the people who have survived Jigsaw's deadly games seek help and guidance from a fellow survivor Bobby Dagen and Dagen begins to become a kind of spiritual mentor, but as the dark secrets in Bobby's past begin to be revealed, a new terror strikes at the survivors. Who will be the one to finally say 'game over'?

Kevin Greutert was once more given the role of director for this latest film. Greutert has been involved with every movie in the series, as editor for the first five films, and as director of 'Saw VI'. He has said that the one thing he aimed for was to make sure that there is never a dull moment for the audience. Even from his editing work on the very first film, there hasn't been a single shot that is longer than necessary, so that the complex story can be told in the best way possible. Greutert worked to produce a particular graphic visual style throughout the film, and to maintain the unique rhythm in the editing of the montage pieces that are so characteristic of the 'Saw' films. His hard work played a part in the films making the Guinness World Records as 'Most Successful Horror Movie Series'. Also worth looking out for in 'Saw 3D' a cameo by Linkin Park's Chester Bennington, a big fan of the series himself.

Saw 3D
USA, 2010
Japanese Title: Sau The Final 3D
Opened: Oct 30
Director: Kevin Greutert
Cast: Tobin Bell, Carey Elwes, Costas Mandylor, Betsy Russell, Sean Patrick Flannery, Gina Holden
Distributor: Asmik Ace
Website: saw3d.asmik-ace.co.jp/

Despicable Me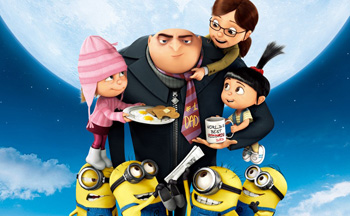 This 3D animated film is the latest from 'Ice Age' series producer Chris Meledandri. Malicious villain and thief Gru is planning the biggest heist in the history of the world with the help of his minions made from bananas: he is going to steal the moon. But after the secret weapon crucial to his plans is stolen, a series of unexpected events then leads to him finding himself looking after three little orphaned girls… With its visuals made from state-of-the-art 3D technology, and amazing plot developments, this movie will have you feeling like you are on a roller coaster ride. It's a heart-warming adventure that will appeal to audiences of all ages.

USA, 2010
Japanese title: Kaitou Guruu no Tsuki Dorobou
Opened: Oct 29
Director: Pierre Coffin, Chris Renaud
Story: Sergio Pablos
Cast: (English voices) Steve Carrell, Kristen Wiig, Jason Segel, Julie Andrews, Russell Brand, Miranda Cosgrove; (Japanese voices) Tsurube Shoufukutei, Mana Ashida, Kouichi Yamadera
Distributor: Toho Towa
Website: www.tsukidorobou.jp/

Stone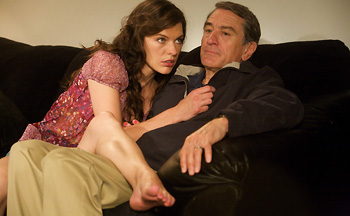 (C)2010 STONEBURGH PRODUCTIONS,INC.
This crime thriller stars Robert De Niro, Edward Norton and Milla Jovovich, three of Hollywood's leading and most talented, actors. The last case to be handled by Jack, a parole officer who is close to retirement, is that of Gerald 'Stone' Creeson, who is serving time in prison for arson and the murder of his grandparents. Stone attempts to manipulate Jack through having his wife Lucetta seduce him. De Niro and Norton give incredible performances as the two men whose lives begin to change places around the pivot of a single woman.

USA, 2010
Opened: Oct 30
Director: John Curran
Cast: Robert De Niro, Edward Norton, Milla Jovovich
Distributor: Nikkatsu
Website: www.stone-movie.com/

SP The Motion Picture: Yabo-hen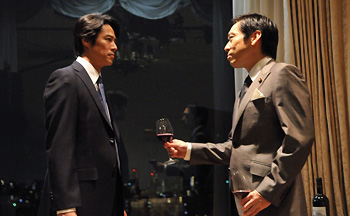 (c)2010 'SP' Project Team
This is the big screen adaptation of the Japanese television drama series about the members of the Metropolitan Police Department Security Police Division, commonly known as SP, and of one officer in particular, who has unique abilities. The television series, with its unconventional story created and written by Naoki Prize winning author Kazuki Kaneshiro, set a ratings record for late-night dramas. Terrrorists target the Prime Minister, and the mystery suicide of a government official takes place. Behind these events lays an even greater terrorist plot, which will shake the entire nation of Japan. The terrorist threat even extends to the SP members themselves. Who is a friend and who is an enemy? What are the true intentions of the team's leader Ogata, who makes the puzzling remark that the incidents are for a 'noble cause'? Junichi Okada, Shinichi Tsutsumi and Yoko Maki return in their roles, and are joined by Teruyuki Kagawa in the role of a powerful member of parliament. Even more will be revealed in the film's follow up: 'SP The Motion Picture: Kakumeihen.'

Japan, 2010
Opened: Oct 30
Director: Takafumi Hatano
Cast: Junichi Okada, Shinichi Tsutsumi, Toko Maki, Satoru Matsuo, Yuu Kamio, Tooru Nomaguchi, Teruyuki Kagawa
Distributor: Toho
Website: sp-movie.com/

Translated by Virginia Okno