Rie Ohara, model
What are you doing here today?
RO: I'm here to swim at the pool at the Tokyo Metropolitan Gymnasium.

Do you exercise to stay in shape?
RO: I do want to stay in shape because I'm a model, but I swim to train for triathlons. The other day I competed in the first Ironman 70.3 Centrair Tokoname Japan (ironman.justgiving.jp/), which was held in Tokoname in Aichi Prefecture. It had a 1.9km swim, 90km bike and a 21km run. During the swim, which was the first leg, I got a cramp in my leg, then I fell off my bike – it took me over six hours to get to the finish line. I want to be able to finish a bit quicker next time.

Where do you do your bike and running training?
RO: For running, I run near my home, or go to the Imperial Palace or do a practice run in the mountains. For cycling, I go to Oifutou or Yabitsu Touge in Tanzawa. Yabitsu Touge is an intense climb but the air is clean, and sometimes I see frogs and snakes. It's fun.

Have you already go another race on the cards?
RO: Lots. [Laughs] In the near future there is the Ko'ko' Road Race in Guam. It's a relay style race where four people make up a team and they run 20km. It's a really fun race because I get to run with my friends. Next, on November 11, I'll participate in the in an Olympic distance Rota Blue Triathlon, which will be held on the North Mariana island of Rota. After that I'll run the full distance in the Tsukuba Marathon on November 28 and then the Honolulu Marathon on December 12, 2010.

That's pretty amazing. Good luck and take care of yourself. However, as a model, it must be tough taking care not to get burnt.
RO: When I took part in the Tokoname Triathlon, I put sunscreen on a number of times before the race, then again after the swim, the bike and four times during the run. I want to put layer upon layer of sunscreen so I don't put on any foundation.

So, I would like to ask you a few questions, not as an athlete, but as a model. [Laughs] What's the focus of your style today?
RO: Not wearing heels! Heels hurt my feet so I stay away from them when I am not working.

Do you have any favourite shops or brands?
RO: I love Ralph Lauren. But I seem to end up in sports brand shops. [Laughs]

Do working as a model and competing in marathons or triathlons have anything in common?
RO: Hard work pays off! I have to always have a heart. [Laughs]

[Laughs] What are your goals?
RO: I would like to compete in an Ironman competition one day. The swim is 3.9km, the ride 180.2km and then participants run the full marathon distance of 42.95km. Just like its name, it is a race for 'ironmen'.

More from Rie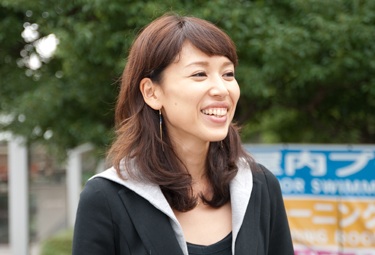 'What I enjoy about modeling is that the make-up artists can use to techniques to change the way your face looks. And, as a woman I enjoy that it takes work being beautiful.'

'Regardless of my age, and for as long as my body holds up, I would like to be able to enjoy a gentle run. When I use my body, I feel good and it makes me positive. It is also good for your skin. It's good for your body and soul.'

'At the pool at the Tokyo Metropolitan Gymnasium, there are places where you can touch the bottom and places where you will be over your head. You should start out where it's shallow. This is because when I first went there to swim, I didn't know what was what, so I ended up starting at the deep end and I got a shock.'

Rie Ohara's blog: ameblo.jp/ohara-rie/

Translated by E. Kavanagh