Back in the fall of 2005, before front row blackberry reports and the ascendancy of the individual style blog, the Japanese fashion industry filed into tents set up on the grounds of the Meiji Memorial Picture Gallery for the inaugural Japan Fashion Week. This new streamlined event, which replaced the scattered, drawn out affair that had been the Tokyo Collections, was designed much with jet-setting international editors and buyers in mind.

Tokyo, like Saõ Paulo, Madrid, or Seoul, was vying for a star on a global fashion map long-dominated by Paris, Milan, London and New York. Yet as critics were quick to point out, the event, derided as dull and formulaic, never drew the sustained overseas interest that the organisers clearly intended. The city's young designers, meanwhile, held tight to dreams of departing (á la Comme des Garçons) for Europe. Tokyo, it seemed, was destined to function as a routine training ground.

Fast-forward to the present and Japan Fashion Week, now entering its 10th season, has changed its tack. No longer set on just courting the much-mythicised international editorial elite, the event has actually embraced the 'training ground' label and spun it into something positive. The Shinmai Creator's Project, overseen by the likes of Issey Miyake Inc's president and French Elle's top editor, seeks to incubate young designers and help them find a footing in the Japanese market. The Asian Designers Collection, which features local talent from cities such as Manila, Jakarta and Ho Chi Minh, hopes to establish Japan as a leader in the growing Asian fashion industry.

Since settling into its current home in Tokyo Midtown, JFW has also made a point of breaking the convention of curtained exclusivity. While an invitation is still a requisite for getting into the shows, the public venue – a centrally located shopping and dining centre – turns the whole week-long event into a spectacle itself. No velvet ropes cordon off the editors and buyers milling about before and after shows; the glass-fronted restaurant yao_ESTAbLISH that serves as a press lounge gives a fish bowl transparency to the editorial process. Meanwhile TV screens around Tokyo Midtown run video footage of the shows, giving passing shoppers a better vantage point than those watching inside from the third row.

In a further nod to the power of the consumer, JFW also lends its name to a handful of spin off events that are open to the public. 'We hope that "fashion week" will not only mean new collections by designers, but also will also offer a heightened atmosphere of fashion in Tokyo,' says spokeswoman Kyoko Kawashima – in other words, a chance to learn a little more about the city's stylish side. Here are some of our JFW 2010 picks.

New Creators 'JFW Fair' at Takashimaya Shinjuku
This regular collaboration has earned the department store the title of de-facto retail hub for the otherwise disparate JFW brands. Shoppers looking to familiarize themselves with some of the labels in question should head to the eighth floor New Creators Zone; here you can find current season goods from the likes of G.V.G.V., HISUI, Matohu, and tiny dinosaur. Perhaps nowhere else in the city will you find space age rags alongside clothing drenched in local history (at least not that can claim to be made in Japan). In the same space, debut brand 'ka na ta' which looks to be of an earthy, romantic mindset will have its own installation March 25 from 3pm-6pm, and pop-up shop to boot.

Date: Wed Mar 17-Tue Mar 30
Location: Takashimaya Shinjuku
Address: 5-24-2 Sendagaya, Shibuya, Tokyo
Telephone: (03)5361 1111
Website: www.takashimaya.co.jp/shinjuku/floor/pdf_download.html

Takashimaya is by no means the only place to see Japanese labels; Parco Shibuya houses boutiques for THEATER PRODUCTS, mercibeaucoup, and mintdesigns,, while LaForet carries fur fur and NeNet. JFW headliners Miharayasuhiro and DRESSCAMP have their own shops in Omotesando and Aoyama, respectively – just in case you were looking for an excuse to go on a citywide shopping trawl.
'50 Years of Fashion with High Fashion'
Along with the present and future of fashion projected on the catwalks, this exhibition traces the evolution of fashion through the eyes of one of Japan's most iconic domestic magazines, High Fashion. Held at the Ginza flagship of beauty company Pola, this free show will feature collection archives and fashion photos – some of which were actually shot in Ginza, Tokyo's classically fashionable neighbourhood.

While local versions of Vogue, Elle and their ilk tend to focus on European designs, magazines like High Fashion and Soen, both published by Bunka Publishing Bureau (affiliated with the prestigious Bunka Gakuen fashion college), have long had an eye trained on rising young Japanese designers and home grown trends. The fashion week exhibition will run with added poignancy following the announcement that High Fashion will cease publication with its April 2010 edition. First published in 1960, the venerable title will reinvent itself as an online media starting April 1.

Date: Mon March 22-Sun Mar 28
Open: 11am-7pm (closes at 5pm on Sun Mar 28)
Location: Pola Museum Annex
Address: POLA Ginza Bldg 3F, 1-7-7 Ginza, Chuo, Tokyo
Telephone: (03)3563 5501
Admission: Free
Website: www.pola.co.jp/m-annex/exhibition/upcoming/ (Japanese only)

CLASKA x JFW 'Night Flea Market'
No stranger to the concept of the after party, Claska will host a special JFW edition of its popular 'Night Flea Market' starting just as the last models round the runway. Not just fashion, but books, music, interior goods and other assorted covetable collectables from Tokyo's creative force will be available on the second floor as part of this bazaar-themed soirée. Previous instalments have seen booths from independent booksellers Utrecht to innovative advertising agency Wieden + Kennedy, proving to offer the proverbial something for everyone.

Date: Fri Mar 26
Open: 7-11pm
Location: Hotel Claska (Full details & map)

Sweet Runway
Not exactly reason to dash out of the house, but if you find yourself in the vicinity of Tokyo Midtown and ever wondered what a chocolate stiletto fashioned by Jean-Paul Hévin might look like, then keep this one in mind. Throughout the run of JFW, a handful of cafés and shops, from the plebeian KOOTS GREEN TEA to grand dame of Japanese–style sweets Toraya, will feature limited edition fashion-themed sweets and beverages.

Date: Mon Mar 22-Sun Mar 28
Location: Tokyo Midtown (Full details & map)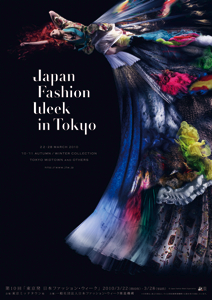 For more information on any of the above, or to follow along with daily photo updates from the collections and read up on the designers, see the official Japan Fashion Week website www.jfw.jp/en/.

Related articles:
・Find Tokyo's trendiest labels
 The spots to shop for the hottest in young Japanese fashion design
・Tokyo's best souvenirs
 Time Out's guide to the perfect souvenir-hunting
・Shopping: overview
 Shopping your way through Tokyo