Apart from those at Marunouchi Brick Square (which were turned on back in September) the majority of Tokyo's seasonal light displays –locally referred to as 'illuminations' – are turned on in early November. Including the annual displays in areas such as Ebisu, Omotesando, Roppongi and Odaiba, we bring you the best illuminations that Tokyo has to offer.

Now illuminated
Marunouchi Brick Square Illumination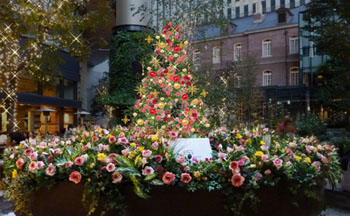 Coinciding with its first year anniversary celebrations, Marunouchi Brick Square turned on its seasonal illuminations on Friday September 3. In addition to the 25,000 champagne-gold coloured LEDs that decorate the trees within the Ichigokan Plaza – an 'oasis' area created around a theme of greenery and water – the display also includes a spectacular LED decorated tree-like objet d'art, dubbed 'Comfort Rose', that incorporates over 1,111 roses, created in collaboration with Hanahiro CQ, a flower shop located on the first floor of Marunouchi Brick Square. (Event details)
Baccarat Eternal Lights: Yorokobi no Katachi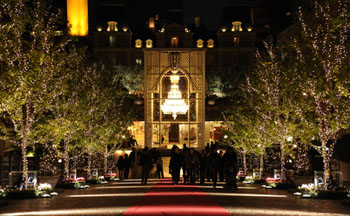 Situated in Yebisu Garden Place, the Baccarat Eternal Lights display incorporates a Baccarat chandelier that is 5m tall and 3m wide – making it one of the largest chandeliers in the world – and 250 lights, 230 of which symbolize the number of years from the company's establishment to the construction of the chandelier in 1994. In total – including lesser displays in areas such as the Entrance Pavilion, Clock Plaza, Promenade, Center Plaza, Glass Square and the 38th floor of the Ebisu Garden Place Tower – the venue makes use of approximately 100,000 lights. (Event details).

Omotesando Hills Christmas 2010 with Swarovski elements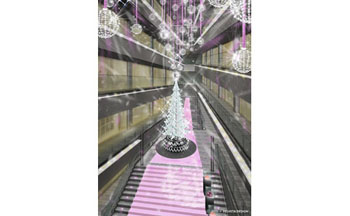 Making an entrance onto the atrium's grand staircase inside Omotesando Hills will be a Christmas tree standing at a height of 8 metres. On the tree 250,000 Swarovski elements and mirrored balls will give off a brilliant display of lights, while nearby sweets presented as works of art, designed by Japanese leading pastry chefs such as Toshi Yoroizuka and Hironobu Tsujiguchi. The 12 restaurants inside the building will be offering a Christmas menu during this period. At Toraya Café, customers can enjoy a layered Kudzu pudding, which looks like a candle, while at Trattoria and Pizzeria Zazza customers can try a chicken roasted whole. (Event details)
LaLaport Colorful Xmas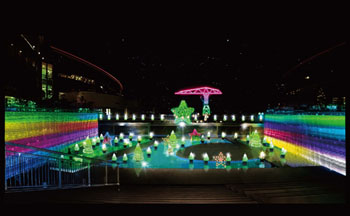 The display at LaLaport Toyosu encompasses illuminations in various areas within the building, as well as in and around the main entrance and courtyard, which comes kitted out with a special box that when touched changes the colour of the walls. The illuminations use red, green and gold coloured lights and are especially eco-friendly, powered by renewable energy generated from biomass, thereby reducing the corresponding carbon emissions to almost zero. (Event details)

Lighted from November 11
Midtown Christmas 2009: 'Everybody is a Santa Claus for Somebody'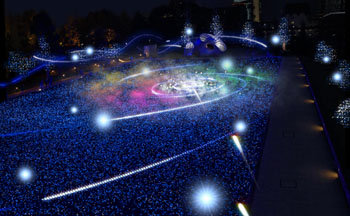 Aiming to bring joy to the hearts of all that come to visit, Tokyo Midtown is planning a number of different festive light displays this season, including a spectacular illumination named 'Starlight Garden' that, situated on their 2,000sqm lawn, will use over 250,000 blue LEDs to create an image of outer space that lights up in stages: beginning with the appearance of a shooting star that leads to a supernova at the centre of the Milky Way and consequently, from the resulting gas and mist, the emergence of a new galaxy. (Event details)

Marunouchi Illumination 2010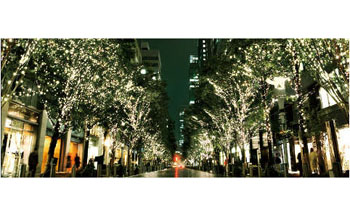 The display along Marunouchi Naka-dori (the avenue connecting Yurakucho and Otemachi) will include nearly 850,000 champagne-coloured LEDs – all of which will be powered by renewable energy (including solar and wind) – and, at its heart, around Marunouchi 2-Chome, a new low-power 'Eco Illumination' displaying approximately 200,000 LEDs. Additionally, there'll also be an 8m tall Christmas tree (displaying gold and silver lights and a range of specially imported decorations) on display at Marucube, situated on the first floor of the Marunouchi Building. (Event details)

Illuminated from November 13
15th Daiba Memorial Tree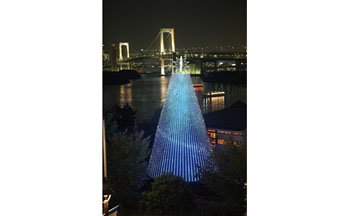 This year being no exception, the Daiba Memorial Tree will once again take up its annual position in front of Decks Tokyo Beach, thereby recreating a favourite winter date spot along the Sea Side Deck, from which to enjoy a view of not only the tree itself, but also Rainbow Bridge and Tokyo Tower. In addition to the Daiba Memorial Tree (the opening ceremony of which includes a special appearance by My Little Love on Friday November 13), Odaiba also offers various other seasonal displays, including illuminations at Venus Fort, Mediage and Tokyo Joypolis. (Full detail & map)

Illuminated from December 1
Omotesando Illumination (tentative name)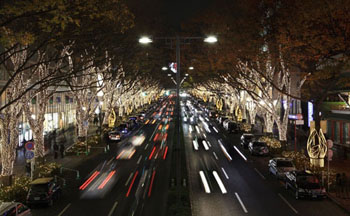 After an eleven-year absence, the Omotesando Illuminations were brought back in 2009 and around ten million people flocked to see them. In their second year since the revival, the 2010 display will have the theme of 'Ninety-year-old Omotesando.' To mark ninety years since Meiji Jingu Shrine was dedicated, the one kilometre stretch from the entrance of Meiji Jingu Shrine to Aoyama-dori will be decorated with a record number of 900,000 LED lights. The event is being produced by creative director Michihiko Yanai, and space designer Kimi Hasegawa is in charge of the illumination design. (Event details)

Illuminated from December 3
Meguro-gawa Minna no Illumination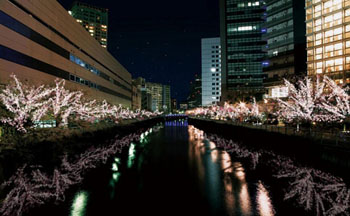 The Meguro-gawa Minna no Illumination 2010, a brand new illumination that centres around Meguro River in Osaki, aims to give the area's children 'something to love and remember' and instil a sense of 'the importance of dreams'. From Friday December 3 until Sunday December 26, the display includes a 'Sakura Namiki no Illumination' that uses approximately 156,000 LEDs to give the impression of blossoming cherry trees in and around Gotanda and along Meguro River. (Event details)
Translated by Brin Wilson