For three days, from Saturday October 9, Harajuku's Laforet Museum will be host to Ayako Suwa's 'Guerrilla Restaurant "Lost Tongues"', with a collection of exhibits and performances with food as their motif.

Ordinary labels like 'artist' or 'chef' don't apply to Ayako Suwa, for she is neither an artist, nor a chef. But she does produce – and serve – things to be eaten. Yet Suwa isn't interested in filling an empty stomach, or even exciting the taste buds. Her aim is to make food that will stimulate appetites and a sense of curiosity that people have begun to forget; what she does can't really be defined as 'cooking'. Her style of expression focuses on place and form, and she calls it 'food creation'.

What Suwa's guerrilla restaurants offer is not food as such, but art works that can be eaten. Perhaps they would best be referred to as installations. There is always some kind of concept behind her food and she collaborates with corporations and does custom catering with the idea of 'delivering a concept to your stomach'. Each time there is some message worked into what she does so that although it is catering, it's also a performance and an installation that you can actually take part in. There have been many locations for her work. There have been art spaces, starting with a gallery, and city spaces, like the Fukuoka underground shopping arcade. There was also the food area in the underground floor of Isetan department store, and the inside of a store for the brand Opening Ceremony. She has even crossed the borders of countries to bring her new and unusual forms of food to Singapore and France.

The staff who serve the food at Suwa's guerrilla restaurants aren't known as waiters but as the 'cast', and Suwa casts them to fit the theme of each dish. Their backgrounds are varied; they could be anything from dancers to strippers. The members of the cast may not speak at all, or may have the areas around their eyes completely painted black – their staging is organised to suit and enliven the concept of each performance. For example, when diners are served an 'emotion' themed dish at the guerrilla restaurant, the cast simply silently present them with a card which says 'anger' or 'emptiness'. There is a great attention to detail in terms of the performance aspect of service. Suwa explains that, 'The same food can have a completely different feeling depending on the situation. Who brought it to you, and in what conditions, will influence you.'

The upcoming 'Guerrilla Restaurant' at the Laforet Museum will be Suwa's first large scale exhibition in Tokyo. Although she has had many forums for expressing her ideas in Tokyo in the past, this will be the first time that people will be able to see, taste, touch and feel the total world of Ayako Suwa, including photographic works. The title of the exhibition is 'Lost Tongues' and the image being used on promotional posters is the rather startling one of a piece of meat, – which looks like beef tongue – with a collection of jewel-like fruits resting gently on its tip. Time Out Tokyo spoke to Suwa about what led her to choose that title.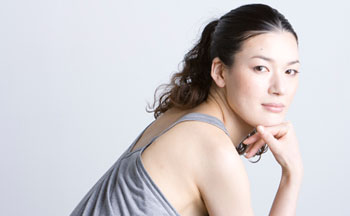 'The concept behind "Lost Tongues" is a dinner which will stimulate a recollection of sensations which have been lost. I think for hunting and gathering people in ages long past, it was much more of an everyday thing to first try things that you find in front of you and then find out that they are surprisingly delicious, or to unexpectedly die from them. I think people evolved, and today's food culture was created, through a history of looking, smelling, touching and then tasting things; honing the senses, with death always close at hand. But when you think about that, people living in cities like Tokyo can eat safe and delicious food any time if they just pay the money for it. Living in those conditions, I think that perhaps the sensibilities that people in ages past had towards food have been reversed and we've regressed. "If I eat this, I might die… but, I want to try it" – because of that kind curiosity and appetite, instincts come into play and senses are sharpened, and I think it's something we have forgotten. From my expression and activities with "food creation" in the city of Tokyo I've come to be aware that sometimes you can make people remember the sensations and instincts that humans originally had.'

In the act of eating, various bodily organs are mobilized, and all of the five senses are stimulated, from touch to smell and taste. This is perhaps why people retain the memories related to food for such a long time. The taste of your mother's cooking. The taste of food while travelling. The taste of your hometown. The taste of another country. More than just a taste, these things are constantly retained in our memories as ideas. Suwa has also given consideration to the power food has to cross the boundaries of time.

'With food, once it's eaten, it's gone. But I think that the dishes I make are not ones that will just disappear, but rather ones that will ultimately stay within people as memories or impressions. What I make is "food", and it is a situation where people will be "eating", but while there is, of course, the experience of feeling the time spent eating, there is also the time after someone has finished eating and the food is gone and they go home, or even five years or three years later. I think the works that I make address how to make an impression on people's memories, and stay with them during those times.'

Sensations that a lost tongue has tasted. What is it that we, who live in a big city and have regular meals on offer to us, have lost? If it's something that can be regained, then we should try to get it back and taste it. If that's how you feel, then perhaps you should make your reservation (in other words, buy a ticket) for the guerrilla restaurant 'Lost Tongues', where even your memories are on the menu.

Translated by Virginia Okno