Classical ballet exists in a fantastic world where dancing fairies and scheming witches are accompanied by classical music. It's a world that can seem difficult to penetrate, and there are quite a few people who – despite having an interest – are reluctant to tackle it. For all those who have been hesitating, Graeme Murphy's Australian Ballet productions 'Swan Lake' and 'Nutcracker – The Story of Clara' are a must-see. Nothing epitomises classical ballet as much as the staples 'Swan Lake' and 'The Nutcracker', but the versions that are in the repertoire of The Australian Ballet are nothing like what has gone before.

'Swan Lake' recalls the chain of events that occurred in the life of Princess Diana. The 'Nutcracker' is told as an epic tale of the history of Australian ballet itself, tracing it back to its origins with the visiting dancers of the Ballets Russes. It's produced in a totally free and innovative style born from the fact that Australia is geographically so removed from the European and American centres of ballet. Both works have a non-fiction element that they want to convey to a contemporary audience, and it's expressed through the dance of classical ballet, which fuses music and the movement of the dancer's bodies with such perfect elegance.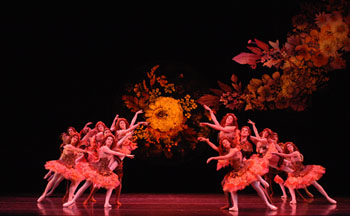 'Nutcracker The Story of Clara' photo by Branco Gaica
Graeme Murphy has a rare gift for recreating these classical works with new choreography and staging. In remaking them, he pays respect to the image of the two famous ballets and retains all of their original grace and grandeur. The coming together of this talented man and the Australian Ballet is a fortunate one. It's precisely because the particular characteristics of the company and the choreographer match so well that these productions of 'Swan Lake' and 'Nutcracker' have been able to announce the presence of The Australian Ballet on the world stage. Among this individuality, physicality is a large factor; Murphy's choreography is bold and dramatic. For so long the idea of a perfectly balanced arabesque, the illusion of flowers blooming onstage, or groups of dancers performing high lifts was the focal point of praise and memory. Advanced technique and a flexible body are the basis of the foundation that makes this type of dance possible. We asked 'Swan Lake' dancer Madeleine Eastoe (who plays the role of Odette) about what the dancer experiences.
'Graeme Murphy's "Swan Lake" is probably the most challenging ballet, both physically and in the dramatic sense, I've danced in the company. It is physically demanding. From Act 1, Odette goes through varied emotions, and throughout four acts, it is a very high energy dancing. Murphy's choreography is based on classical ballet techniques, but he adds his own twists on well-known steps in order to create the atmosphere of his "Swan Lake" and convey varied emotions. There's so much dramatic twist and it takes a lot out of you, so you are literally exhausted by the end, because you have to exert so much, otherwise I don't think the story or message gets across. Murphy's movement is closely related to the characters' emotions. When you are portraying a role like this, with such a magnitude of emotions, you are almost stepping out of yourself to enter into her world, well certainly not crushed in that way [Laughs] but, in order to understand the role I've studied previous interpretations as well as observing people's emotions in everyday life. At the airport, there was someone waiting for his luggage and frustrated. Or someone meeting a loved one, you can turn little things like that to work into the understanding of the role.'

A love triangle between the prince, the prince's lover and his wife to-be, Odette, unfolds in a profound depiction portrayed by Adam Bull (who dances the role of Prince Sigfried). He describes it thusly:

'The reason why this piece resonates so well with the audience is because it's a real human story. It's not a fairy tale, which is also great to escape, but very rarely in ballet you see a real human story on stage, so it's very confronting at times when you actually see that. "Swan Lake" is very special in that it reaches across to the audience; it reads so much from the story. It's a real emotional journey, not just for us, but also for the audience.'

The characters that appear in Murphy's Australian Ballet productions of 'Swan Lake' and 'Nutcracker' aren't swans or fairies, but ordinary people, who have been swept along by inevitable fate and have made many mistakes in their lives. In difficult situations the contradictions we are faced with in our everyday lives can leave us torn between conflicting feelings. While there are times when we can avoid it, there are others when we cannot. We know that this is a fact of real life. We also know that if we don't fully confront the suffering we go through at those times, it's something that will never be overcome. It's not something that is easily done, but in the performances of The Australian Ballet the dancers put their entire being into grappling with, becoming entwined with and struggling with this suffering; but all of it is breathtakingly beautiful. In that moment when sadness and pain are absorbed into beauty, perhaps you can also experience a change within yourself.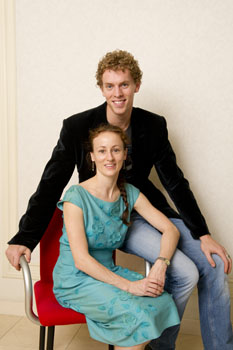 Madeleine Eastoe & Adam Bull, photo Nobuhiko Hikiji
The Australian Ballet 2010 International Tour in Japan
Graeme Murphy's 'Swan Lake'
Date: Sat Oct 9-Mon Oct 11

Graeme Murphy's 'Nutcracker – The Story of Clara'
Date: Fri Oct 15-Sun Oct 17

Location: Tokyo Bunka Kaikan (Full details & map)
Admission: S ¥16,000; A ¥14,000; B ¥12,000; C ¥9,000; D ¥4,000; E ¥5,000
Ticket inquiries: 03 3791 8888 (NBS Ticket Centre)
Website: nbs.or.jp/

Translated by Virginia Okno