Akihabara can usually be found near the top of your average traveller's Tokyo to-do list, but the centre of the city's manga and anime subculture often turns out to be a somewhat disappointing experience for first-timers. Wandering along the main thoroughfare, hitting up the huge electronics stores and clowning around in Don Quijote will only have you scraping the surface of this endlessly multi-faceted bundle of geekiness. Having a local show you around is obviously one way of avoiding the tourist traps, but enlisting the services of a true Akihabara expert will help you dig even deeper into the world of giant battling robots, two-dimensional fantasies and '80s video game classics.
This expert we speak of is Patrick Galbraith, anthropologist, author of books like The Otaku Encyclopedia and The Moe Manifesto, and a passionate Akihabara regular himself. Patrick runs in-depth 'Otaku Akihabara' tours with TokyoWay, taking small groups on half-day excursions into the heart of geektown every Wednesday afternoon (other times can be requested as well). We tagged along on one of these trips, and came away with the conviction that anyone looking for a crash course in some of the quirkier aspects of Japanese subculture simply can't afford not to do the same.
Starting off with an enlightening intro to the history of the area, including its origins as a postwar black market, we followed Patrick through the wonderfully retro Radio Center and its specialist electronics shops. This also turned out to be where tour participants get their 'otaku baptism': soldering together an LED starter kit sure is trickier than it sounds.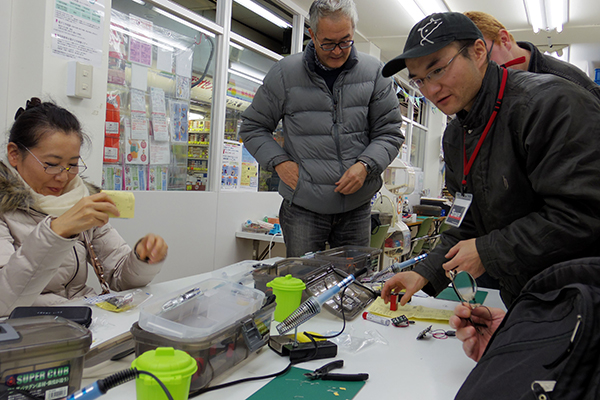 Soldering under watchful eyes...
With this introductory task successfully completed, we headed for the Radio Kaikan, the classic shopping mall that recently underwent a comprehensive renovation, completing its transformation into an easily accessible otaku superstore stocking everything from upscale figurines to Sailor Moon costumes. This was then followed by visits to more, hm, niche establishments, specialising in things like 'love simulator' games, fan-created comics and 'gachapon' capsule toys.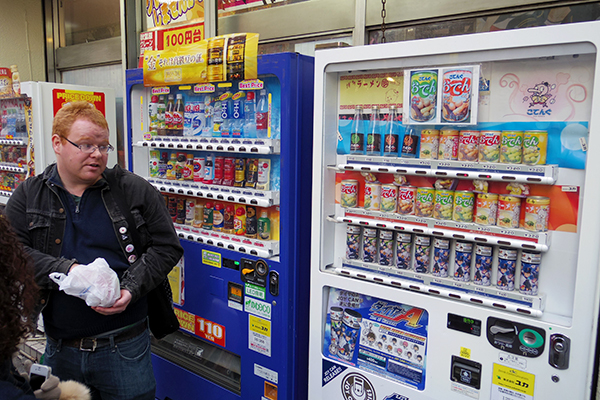 Patrick maintains his distance...
Still, this tour's not exclusively about well-endowed anime idols and light social awkwardness: an endless source of hilarious otaku anecdotes, Patrick will also point out the area's best tonkatsu joint and introduce participants to the world of canned oden – an indispensable survival food for otaku, we hear. You can also look forward to a visit to a maid café, where even the most kawaii-allergic cynic will learn the value of casting a love spell on some character-adorned cappuccino.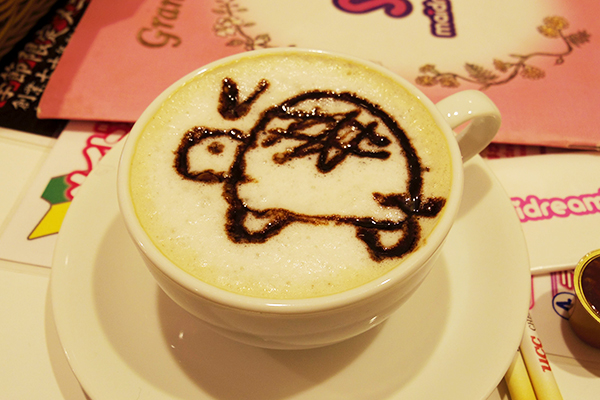 Latte art, maid-style...
TokyoWay's Akihabara In-Depth Tour takes roughly three and a half hours and costs ¥13,900, which includes one drink at a maid café, a few fun souvenirs and a signed copy of The Otaku Encyclopedia. Sign up for the tour at TokyoWay.jp, and don't dilly-dally – these things tend to fill up fast.