As Thailand prepares to become the first Asian country to legalise civil partnerships for same-sex couples, Tokyoites are wondering if there's any chance Japan will make a similar move. In Japan, same-sex couples are denied the legal rights and benefits that heterosexual couples acquire through legal unions. 'So even though I am legally married in the US, I am still treated as single in Japan,' says freelance writer and PR agent Yuki Keiser. 'This means that, should I decide to live in Japan, my wife cannot move with me because she is not eligible for a spousal visa.'
Last December, Keiser, who is Swiss-Japanese, and her American wife tied the knot in California after the Defense of Marriage Act (DOMA) was abolished. They have since applied for a spouse visa. 'We also considered legal partnership in my home country of Switzerland, but this doesn't offer the same benefits as marriage. For example, couples registered as being in a partnership are not allowed to adopt,' she explains. 'So with all this in mind, getting married in the US made more sense.'
Before relocating to the US in December 2013, Keiser was instrumental in helping to create awareness of the LGBT community in Tokyo through her creative ventures. She founded the web magazine TokyoWrestling.com in 2007 and edited 'Tokyo BOIS!' in 2011, a photo interview book that portrays Japan's boyish lesbians and FtM transgenders, and also the lesbian fashion journal Tokyo Finger Bang Style which was launched in 2012.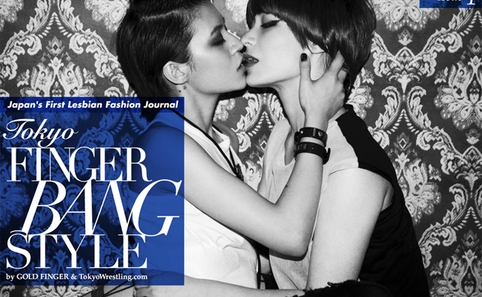 All three projects were the first of their kind in Japan and garnered international attention. Keiser says, 'Compared with the growing support of same-sex marriage in Europe and the US, Japan is still lacking when it comes to providing public awareness, visibility, discussion opportunities and knowledge about LGBT rights.'
That said, Tokyo Disneyland hosted its first same-sex wedding last year and there is an increasing number of Japanese nationals getting legally married to same-sex partners and obtaining their spouse visa abroad. Recently, there was a groundbreaking case in which an American military person living in Japan had his husband acknowledged as a spouse. This means his husband was allowed to stay in Japan, which is exceptional considering the law.
So awareness is gradually increasing in Japan, and Keiser believes things are changing. 'Even in Switzerland, 15 years ago, there was a lot of prejudice against LGBT people. But now same-sex couples enjoy partnership rights and are generally viewed with a more positive attitude. So Japan may not be too far away; it's only a matter of time, I hope.'
Find out what's happening at Tokyo Rainbow Week 2014
This article appears in issue 2 of Time Out Tokyo magazine, out now.