Like Father, Like Son, the latest film by internationally adored director Hirokazu Koreeda, has picked up the Jury Prize at this year's Cannes Film Festival. It's the first major success for a Japanese filmmaker at the festival since Kiyoshi Kurosawa's Tokyo Sonata took the Prix Un Certain Regard in 2008, and the first competition win since Naomi Kawase scooped the Grand Prix for The Mourning Forest a year earlier. This year's Palme D'Or, the festival's highest honour, was given to Abdellatif Kechiche's lesbian drama Blue is the Warmest Colour, with the Coen brothers' Inside Llewyn Davis taking the second-placed Grand Prix.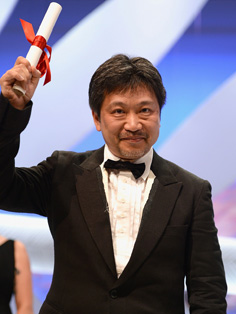 Continuing the family focus of Koreeda's previous films I Wish (2011) and Still Walking (2008), Like Father, Like Son (Soshite Chichi ni Naru) revolves around an over-achieving father (musician and Galileo star Masaharu Fukuyama) who discovers that his six-year-old son was switched at birth, and that his biological child has been raised by a pair of underachievers running a neighbourhood electrical shop (Lily Franky and Maki Goto). The film received a standing ovation when it was screened at Cannes, and drew some strong reviews from critics. 'Koreeda has crafted a piercing, tender poem about the bittersweet ebb and flow of paternal love, and his status as Ozu's heir becomes ever more assured,' gushed The Telegraph's Robbie Collin, while Variety's Maggie Lee praised 'a characteristically low-key but supple treatment of familial bonds, expectations and responsibilities that reverberates with heartrending impact.'
Others were less convinced: The Guardian's Peter Bradshaw grumbled that this 'sweet-natured, but essentially undemanding film' paled alongside Koreeda's previous two pics, while The AV Club's Mike D'Angelo declared that 'Like Father, Like Son has the overall depth and tenor of a Lifetime movie.' Ouch. Alas, local audiences will have to wait a while to deliver their own verdicts: Like Father, Like Son isn't due to open in Japanese cinemas until October 5.